Christchurch quake: Focus on living
8:11 AM Wednesday Feb 23, 2011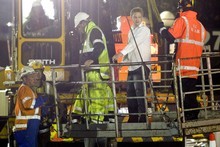 A survivor is lifted down by crane after being rescued from the wreckage of the collapsed Pyne Gould Corporation building yesterday. Photo / Mark Mitchell
Rescue workers are having to leave bodies in the streets of Christchurch as they focus on trying to save trapped survivors of yesterday's devastating 6.3 magnitude earthquake.
Police nightshift commander Superintendent Russell Gibson this morning told Radio New Zealand there were scenes of "absolute carnage" in the centre of Christchurch.
Last night Prime Minister John Key said the death toll was 65, but he today revised the official toll to 38 - and then 39. Civil Defence Director John Hamilton this morning said fatalities were only officially confirmed once bodies had been identified and next of kin informed. He would not provide an unofficial death toll.
Mr Gibson said there were 38 bodies in a temporary mortuary at Canterbury police station.
"I know that the figure of 65 [dead] has been mentioned, I know that it will be significantly higher than that.
"There are bodies littering the streets they're trapped in cars, crushed under rubble, and where they are clearly deceased our focus unfortunately at this time has turned to the living," he said.
Hundreds of rescue workers had been working through the night systematically going door to door checking for survivors, Mr Gibson said.
He said bodies were "right through" the rubble but he believed about 30 people were pulled out alive overnight - mainly from the CTV and Pyne Gould buildings, where others are still believed to be trapped.
"We've had some people that we have pulled out and haven't got so much as a scratch on them, yet we've had other people where we've had to amputate limbs to get them out."
TV3 reported that one man in the Pyne Gould Guinness building had to have both legs amputated in order to be rescued.
Rescuers were still receiving text messages and hearing trapped people tapping and there could easily still be more than 100 people trapped, Mr Gibson said.
Toll expected to rise
John Key told Breakfast the number one focus today was on search and rescue, with around 100 specialist urban search and rescue teams in the city and additional teams on the way from Australia.
Mr Key said there had been offers of help from around New Zealand and the world.
"We appreciate that help and have not been shy in accepting that help.
"This has undermined the confidence of Cantabrians but we know they are stoic people and will get through this."
He said he expected the official death toll to rise from 38,
"As the day unfolds the formal identification number will rise from 38," he said.
Scenes of heartbreak
Civil Defence director John Hamilton said there was still no list of the missing or numbers trapped. He said most emergency call-outs had come from Christchurch's CBD and rescuers were focussing on 10 buildings in the city.
A board member from the Crusaders was one of the people killed in the earthquake, chief executive Hamish Riach has revealed.

The Press reported that a woman with a baby in her arms died instantly when she was hit by falling debris in the earthquake. It was not known how badly hurt the baby was. Newstalk ZB said another baby was killed when a television fell on him.
St John Ambulance said two people were killed when hit by falling rocks while walking the Lyttelton's Crater Rim Track. They were believed to be the only victims from the Lyttelton area, which was severely damaged.
Christchurch Mayor Bob Parker told TVNZ people needed to be prepared for more heartbreak.
"We needs to harden ourselves for what we are going to hear," he said.
"What we know is that they are all people that we will end up knowing so this is going to be a really difficult time for our community. There are family, friends and all sorts of people who will be connected right throughout the community.
"That is going to be really hard,"
He said the message to those families with people missing was that everything was being done to help and to find their relatives and friends.
"We are getting people out alive so keep you hope up but it is going to be a hard day and I think as the news begins to unfold today we will have a clearer picture and it is not going to be a happy picture."
Infrastructure
Civil Defence said welfare centres had been busy overnight as had hospitals and medical facilities.
About 950 people spent the night at two welfare centres, at Hagley Park and Burnside High School, where blankets, food, sanitation were supplied.
Social Development Minister Paula Bennett says more welfare centres would be opened once buildings are declare safe to use.
"The advice is to stay at home if people can and to check on their neighbours and if they need any help or advice, call the Government helpline," says Ms Bennett.
The 0800 779997 helpline will operate 24 hours, providing information, advice and transferring calls through to other appropriate agencies.
"Financial assistance will also be made available to those who need it, we have the ability to provide Civil Defence emergency payments and other assistance is available," Ms Bennett said.
Power was still out to large areas of the city, telecommunications were patchy and many residents did not have drinking water.
Mayor Parker told Breakfast at least six schools would be used as water distribution centres. Water tankers would be sent to them today for people to collect water from. The schools were Lyttelton, Redcliffs, South New Brighton, Shirley, Wainoni and Phillipstown. Steps were also under way to get food supplies in.
Mayor Parker urged people to stay at home, saying the city was effectively "closed" for at least the next three days.
Mr Parker said portable toilets were being brought into the city to help ease the impact of waste water.
People with minor injuries were advised to go to smaller medical centres around the city rather than Christchurch Hospital, he said.
Christchurch Airport has reopened for domestic flights and it is expected the backlog will be cleared by the end of the day.
But it will take longer to clear international flights which are expected to resume from midday, Christchurch International Airport chief executive Jim Boult said this morning.
Aucklander Andrew Stevenson told nzherald.co.nz from Christchurch that residents were queuing for food and money.
"There are queues of 50 cars outside every gas station, 10 people outside each ATM and a queue of 40 people just to get into New World - not at the checkout - this is just to get in the doors. And no bread or milk."
Aftershocks continued to hit Christchurch overnight, the largest a 4.8 magnitude tremor 10km south-west of the city at a depth of 7km at 9.21pm.
There have been at least 11 more quakes over magnitude 4, with the latest a 4.6 magnitude earthquake 7km deep at 6am today, GNS Science says.
- NZHERALD STAFF, NZPA, NEWSTALK ZB
Information about what's been damaged in the aftermath of the magnitude 6.3 earthquake and where people can get help:

View Christchurch earthquake: Map of the destruction in a larger map
Copyright ©2017, NZME. Publishing Limited