Is a jail sentence fair for the 'manslaughter' hunter?
9:01 AM Thursday Feb 3, 2011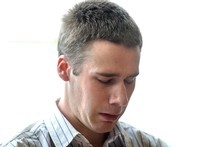 Andrew Mears pleaded guilty to a firearms charge in the Taupo District Court over the death of Rosemary Ives. Photo / Ben Fraser, Daily Post
Andrew Mears has been sentenced in the High Court at Rotorua to two and a half years in prison after pleading guilty to manslaughter.
Mears, 26, and three friends had been using a spotlight on the back of a ute to hunt for deer in the Kaimanawa Forest Park when Mears spotted what he thought was a deer in the bush.
He fired his .243 Remington rifle. The deer eyes turned out to be the head torch of Rosemary Ives, who died of brain injuries. She was shot dead while brushing her teeth at a camping ground
Is a jail sentence fair for the 'manslaughter' hunter? Here is the latest selection of Your Views:
Copyright ©2016, NZME. Publishing Limited