Blueberry crumble muffins
By Donna Hay
1:00 AM Monday Jan 10, 2011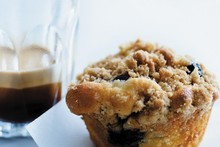 Blueberry crumble muffins. Photo / Chris Court
125g butter, chopped
3/4 cup caster sugar
1 tsp vanilla extract
2 eggs
2 1/4 cups plain flour, sifted
1 tsp baking powder, sifted
1/2 cup milk
250g blueberries
75g melted butter, extra
1/2 cup brown sugar
1/2 tsp cinnamon
1 Preheat oven to 180C. Place the butter, sugar and vanilla in the bowl of an electric mixer and beat until pale and creamy.
2 Gradually add the eggs and beat until well combined. Add 1 1/4 cups of the flour, baking powder and milk and beat until just combined. Spoon the mixture into 12 x 1/2 cup-capacity lightly greased muffin tins and top with the blueberries.
3 Place the extra butter, remaining flour, brown sugar and cinnamon in a bowl and mix with a knife until mixture resemble coarse breadcrumbs. Divide mixture between the muffins and bake for 20-25 minutes or until cooked when tested with a skewer. Makes 12.
Tips and tricks
Blueberry crumble muffins make great lunchbox treats and picnic snacks. Wrap in non-stick baking paper and place in lunchboxes or the picnic basket.
* For more recipes by Donna Hay click here.
By Donna Hay
Copyright ©2016, NZME. Publishing Limited