Sportsperson of the Year Finalists: Valerie Adams
5:30 AM Friday Dec 10, 2010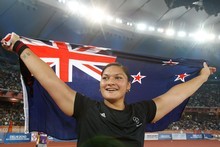 Photo / Brett Phibbs
When you're reigning world and Olympic champion, there's always a danger Commonwealth Games gold would be greeted by a bit of a ho-hum reaction by the New Zealand public.
Many may question the inclusion of Valerie Adams' shotput gold in Delhi in the list of finalists for sportsperson of the year.
There's no getting around it - such was the vast gulf in class between Adams and the rest of the competitors, she could have won that Commonwealth Games gold medal in her pyjamas.
She virtually admitted as much in the lead-up to the event in India.
"The standard is really low, it's really poor in the Commonwealth.
"If you put me and Cleo [Brown of Trinidad and Tobago] aside, the standard is pretty poor."
But that is precisely the point - Adams is in another realm from her competitors. Few in the world can match it with the 1.96m shotput superstar and, as a result, the standard was always going to seem poor when you compare it to the standards she sets.
Predictably, her rivals in Delhi were hopelessly outclassed.
The Kiwi ace effectively won gold on her first throw, biffing the shot 20.47m after which she danced a jig. The gold was in the bag.
Brown, the silver medallist, could only rustle up a best throw of 19.03m.
To finish nearly one and a half metres ahead of the next best in a throwing discipline is like winning the 100m by more than a second - a competitive joke.
But while such a result undermines the credibility of the Commonwealth Games as an event, it shouldn't undermine Adams' achievement.
Her performance in Delhi was even more impressive when you consider it was set against the backdrop of an extremely turbulent year that featured two major separations and a raft of technical and training changes.
In March, she announced she and her coach of 11 years, Kirsten Hellier, had parted ways.
It was an extremely emotional time for Adams, who likened the split to going through a divorce.
She also announced that she and her husband Bertrand Vili, a shot putter from New Caledonia, had separated.
Her new coach, Didier Poppe, immediately remodelled her technique, concentrating on speed over power.
Those changes took some time to bed down and Adams was forced to play second fiddle to Belarus rival Nadzeya Ostapchuk for much of the season.
Adams lost her world indoor title and the number one ranking, but did manage to have the final say of the season, unleashing a season's best throw at the Continental Cup athletics meet in Split, Croatia, to put an end to eight straight losses to Ostapchuk.
"I fought every competition to the end. I stayed in second place and finally in the last competition I came through with a big throw."
That throw of 20.86m came after she spent some time in Switzerland with Werner Gunthor, winner of three world championships between 1987 and 1993, and his coach, Jean-Pierre Egger. The success of the stint in Switzerland, with the deterioration of the relationship with Poppe, ultimately led to Adams' decision to dump the Frenchman in favour of Egger.
While many may view the latest rift as a sign of an athlete in turmoil, others will say it points to a coming of age for the 26-year-old. She has matured and is at the point in her career where she knows what works for her and what doesn't.
Copyright ©2015, NZME. Publishing Limited