TriBeCa, Parnell
12:00 PM Friday Dec 10, 2010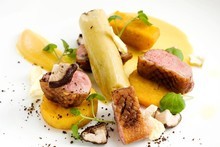 Duck breast with pineapple and watercress. Photo / Babiche Martens
Hearing there's a new chef at an old favourite restaurant always spurs me into action. When that chef is ex-Meredith's, The French Cafe and Vinnies, I can't get there fast enough. I book the parents and little sister to meet me in Parnell, pronto, when I find chef Hayden McMillan has joined TriBeCa Restaurant & Bar.
Housed in what has to be one of Auckland's most historic locations, the former Blind Foundation - with its pillars, patios and archways, this majestic brick building is reminiscent of dining in parts of Europe. The main room is elegant and intimate with French doors opening out to a patio area.
On first perusal of the menu I get so excited I knock over my glass of bubbles. Chef McMillan has completely revamped the menu and it's exciting.
My choice of starter includes one of my favourite seafoods - paua. Each flavour bursts on to my palate - dark rich oxtail encased in tender pasta, slivers of soft pale paua meat with a hit of coriander to give the dish its ultimate lift.
My mother ordered the deep sea scallop starter and it proved to be another standout. Served with dry cured Spanish ham and salsa verde on a cauliflower puree, she declared the scallops perfectly cooked and flavourful. Father dearest ordered the salt and pepper squid - a generous pile of criss-crossed scored pieces of squid with an aioli imbued with the flavours of charred red peppers. The squid was crispy and tasty enough, but slightly chewy too.
Mains arrived. My sister swooned over her mushrooms, which were a rich, earthy mixture of four different types, cooked in olive oil and herbs and served with large flakes of parmesan and truffled potatoes. The lamb rump main was served with braised artichokes and an intense manuka smoked eggplant mash that was unbelievably strong, but a brilliant match for the pink meat.
I was enticed by the hapuka. The fish was cooked perfectly and crowned with a pile of crispy, deliciously salty shredded ham hock. The bright green peas in the broth were a clever mix of fresh and dehydrated and the texture combo was surprising and cheeky.
My mother's main was probably my favourite dish of the night. Tender, pink morsels of duck breast were served alongside the leg meat that had been formed into a tasty tube of cannelloni. The best part was the pool of pineapple sauce which seemed an interesting flavour to pair with duck, and it was completely successful.
A case of too much salt on our side dishes was one disappointment.
The creme brulee at TriBeCa is given a twist with rosemary and rosewater and covered in fresh and freeze-dried raspberries.
Dining here you can be assured of an evening of creative, yet not silly, food, and attentive service. Best of all, with summer here, TriBeCa offers fantastic al fresco dining under the guidance of this fabulous young chef.
From the menu: Scallops with serrano ham and salsa verde $23, braised oxtail ravioli with baby paua $23, salt and pepper squid $9.50, hapuka with prawn, peas and ham hock $36, lamb with spiced lentils and smoked eggplant $36, mushrooms a la Grecque $31, duck breast with pineapple and watercress $38, sides of asparagus, fries and cavolo nero $9 each, rosemary-scented brulee with raspberries and rosewater $15.
Drinks: Fully licensed.
Copyright ©2016, NZME. Publishing Limited