Pike River miners: Behind the names
By NZ Herald staff
1:13 PM Monday Nov 22, 2010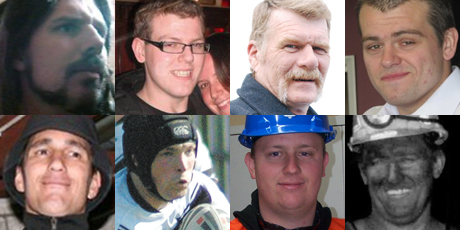 Some of the missing miners. Photos / Supplied
Almost three days after an explosion ripped through the Pike River Mine on the South Island's West Coast, details are emerging of the 29 men that remain trapped underground.
Superintendent Gary Knowles read out the names and ages of those missing this morning, saying: "It is really important that we start putting names to our people, so that people know who they are and they are not nameless faces."
The backgrounds of the missing miners are as wide and varied as their ages, hailing from as far abroad as Scotland and South Africa.
Malcolm Campbell is due to marry his Kiwi fiancée next month, while another of the trapped men was working his first shift at the mine at the time of the explosion.
Josh Ufer is due to become a father in May.
"He is strong and would punch through the rock to get out of there."
"If anyone is to survive, it will be Josh," one friend told reporters.
The trapped miners:
Conrad Adams, 43 (Greymouth), Malcolm Campbell, 25 (Greymouth - Scottish), Glen Cruse, 35 (Cobden), Allan Dixon, 59 (Runanga),
Zen Drew, 21 (Greymouth), Christopher Duggan, 31 (Greymouth), Joseph Dunbar, 17 (Greymouth), John Hale, 45 (Ruatapu), Daniel Herk, 36 (Runanga), David Hoggart, 33 (Foxton), Richard Holling, 41 (Blackball), Andrew Hurren, 32 (Greymouth), Jacobus 'Koos' Jonker, 47 (Coben - South African), William Joynson, 49 (Dunollie - Australian), Riki Keane, 28 (Greymouth), Terry Kitchin, 41 (Runanga), Samuel Mackie, 26 (Greymouth), Francis Marden, 42 (Runanga), Michael Monk, 23 (Greymouth), Stuart Mudge, 31 (Runanga), Kane Nieper, 33 (Greymouth), Peter O'Neill, 55 (Runanga), Milton Osborne, 54 (Ngahere), Brendon Palmer, 27 (Cobden), Benjamin Rockhouse, 21 (Greymouth), Peter Rodger, 40 (Greymouth - British), Blair Sims, 28 (Greymouth), Joshua Ufer 25 (Australia), Keith Valli, 62 (Winton).
Conrad Adams, 43 - Conrad Adams is from Greymouth. Mr Adams' Linkedin profile says he is a deputy at the Pike River mine.
Malcolm Campbell, 25 - Malcolm Campbell is due to marry his Kiwi fiancee Amanda Shields on December 18.
The 25-year-old Scotsman is originally from St Andrews.
His father told the Sunday Express his son had found work after travelling abroad with a cousin.
They had spent two years working in Australian gold mines before coming to the Pike River coal mine on the West Coast, he said.
The elder Mr Campbell described his son as easy-going and hard-working to Scotland's STV News.
Allan Dixon, 59 - Allan Dixon is one of the oldest miners caught up in the disaster.
He has two sons.
Zen Drew - Zen Drew is a building apprentice for a company contracted to Pike River Coal. Laurie Drew, the father of 21-year-old Zen, has voiced his concerns about how slow the rescue is.
Chris Duggan - A friend of Runanga local Chris Duggan describes him as a "neat person" and "very bright and bubbly".
Robyn McMillian says Mr Duggan, who is around 30, is a real "hard case and always laughing".
Ms McMillian says Mr Duggan has not been working in mining for very long and had previously worked in forestry, shifting industries because he wanted a change.
Joseph Dunbar - It is understood the day of the explosion was 17-year-old Joseph's first day working underground at the mine.
Koos Jonker - The wife of South African Koos Jonker, Christelle, left a moving message on her facebook page thanking people for their support and asking to "keep on believing" her husband is OK.
Willy Joynson - Fraser Coast father Willy Joynson, 48, is an experienced underground coal miner and worked for many years in the Burgowan mines at Howard. He has been travelling back and forth from New Zealand to his home in Tinana, in Australia, where his wife and two children have lived for the past 12 months.
Terry Kitchin Terry Kitchen, 41, from Runanga had reportedly finished his shift before the explosion but opted for two hours overtime.
Michael Monk - Michael Monk is the son of Paroa Hotel owner Bernie Monk who is a local legend, and part of the well known Monk family. Michael is a keen rugby player for Blaketown and West Coast
Stuart Mudge - Stuart Mudge's father says his son is "fit, very strong and very healthy" and working in the mine gives him "an outlet for his energy".
Steven Rose says mining is not about the money for his tough and resourceful son. He loves the industry, both the physical, hard work and the "common bond" with other miners.
"When the explosion happened Stuart was probably driving a very valuable piece of machinery. Working with that machinery and those guys is the pinnacle of his working career.
Kane Nieper - Kane Nieper is from Greymouth. Mr Nieper is married to the daughter of a local contractor and has a young family.
Peter O'Neill - Peter O'Neill is reported by the Otago Daily Times to have been involved in the rescue of miners trapped in floods at Black Reef mine two years ago.
Peter O'Neill is 55 and married. His brother is understood to be part of the rescue mission.
Milton Osborne - Milton Osborne was serving his second term as a Grey District Councillor for the Eastern Ward, a position to which he was elected unopposed.
A contractor at the Pike River mine, he lived in the Grey Valley with his family.
National's West Coast MP Chris Auchinvole told TV3's The Nation Mr Osborne is a "great guy".
"He is a very large gentleman, used to give me good advice during the election campaign. If things got a bit rough he would tap me on the shoulder and say - 'Chris, mate. You just stay lovely, that's how they want you. I'll do the nasty bits."
Brendon Palmer - Second generation miner Brendon Palmer's father Marty Palmer also works at the Pike River Mine. Mr Palmer snr said he had reported gas problems when he finished his shift at 8am on the morning of the explosion.
Ben Rockhouse - Aged in his 20s, Ben is the brother of Daniel Rockhouse who was one of the two miners that walked out after the explosion on Friday.
Peter Rodger - Peter Rodger moved from Scotland to New Zealand two years ago to be closer to his mother and sister, and lives with his Kiwi girlfriend Dianne Morris. A former oil rig worker, the 40-year-old made the switch to mining after sustaining a leg injury in the North Sea.
Blair Sims - A talented rugby league player, Blair is the West Coast player of the year for the past two seasons. He is the husband of a young wife and father to two young children.
Josh Ufer - Josh Ufer, 27, works for Valley Longwall Drilling and it is understood he is on secondment to the mine. His is due to become a father in May. Friends of Josh describe him as a larrikin who works hard and parties harder.
"Josh is determined and works hard. He is strong and would punch through the rock to get out of there. If anyone is to survive, it will be him," one friend told reporters.
His parents Joanne and Karl have flown to New Zealand from Australia and China, where they await news about their son.
- NZHERALD STAFF
By NZ Herald staff
Copyright ©2016, NZME. Publishing Limited