Fashion chain Jean Jones in receivership
3:45 PM Tuesday Oct 26, 2010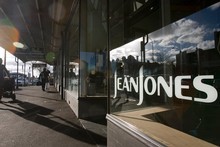 Photo / Richard Robinson
Fashion chain Jean Jones has gone into receivership, with the loss of four stores.
The remaining 14 stores will continue to operate while receivers Deloitte, who took control of the company last Thursday, found a buyer for the chain.
Spokesperson Mike Horne said that while the receivers were still reviewing the company's position, it appeared the basic business model was viable and its problems were primarily caused by factors outside the business.
"There are other related entities that are in receivership and in liquidation which meant there were financial pressures that were placed on this particular group," he said.
In May last year then owner Michael Ward was forced to put the three companies associated with the Jean Jones chain into liquidation.
Despite this Horne said he was hopefully of achieving a positive outcome for the group.
"Based on the fact that most stores are trading profitable, we are pretty optimistic that we can hopefully find a buyer for the chain because we think it's a business model that makes sense and think it would hopefully be attractive to someone."
Horne said he hoped to advertise the business for sale in the next few days.
The stores which have closed are located in Nelson, Tauranga, Wellington and Howick. Job losses at those stores were "probably in the ballpark of 10", Horne said.
- NZ HERALD ONLINE
Copyright ©2015, NZME. Publishing Limited