Green bean and basil gnocchi
By Donna Hay
1:00 AM Tuesday Sep 28, 2010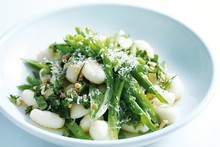 Green bean and basil gnocchi. Photo / Chris Court
Full of fresh, spring flavour, green beans give meals vibrant colour and a crisp, sweet bite. Simply dressed with oil, they make a delicious side to roasted chicken, but also give pillowy, rich gnocchi depth with their tender crunch, and make a fresh addition to a warm lamb salad. However you use them, green beans are a fast way to freshen up family favourites.
Green bean and basil gnocchi
Serves 4
500g store-bought potato gnocchi
300g green beans, trimmed, blanched and sliced lengthways
1 cup basil leaves, chopped
2 Tbsp pine nuts, toasted
1 clove garlic, crushed
1/2 cup finely grated parmesan, plus extra, to serve
1/4 cup olive oil
Sea salt and cracked black pepper
1 Cook the gnocchi in a large saucepan of salted boiling water for 2-3 minutes or until firm and floating to the surface. Drain and return to the saucepan with the beans. Place the basil, pine nuts, garlic, parmesan, olive oil, salt and pepper in a bowl and mix to combine. Add to the gnocchi and toss to coat.
2 Divide the gnocchi between bowls and top with the extra parmesan to serve.
Tips and tricks
Choose beans that are crisp, firm and bright in colour. You can store fresh green beans in a plastic bag in the crisper of your fridge for up to three days.
Take care not to overcook green beans, they're at their most delicious when they are just tender, not soft.
To blanch, top and tail and cook in salted, rapidly boiling water for 2-3 minutes or until just tender. If using the beans in a salad, you can refresh them under cold water before adding to the salad.
To serve beans as a side, they need little more than a drizzle with olive oil and vinegar. You could use a flavoured olive oil, balsamic vinegar or red wine vinegar to dress the beans. Try tossing the beans with pan-fried garlic or pancetta and serving with roasted meats.
By Donna Hay
Copyright ©2016, NZME. Publishing Limited