Basic pizza dough
By Donna Hay
1:00 AM Wednesday Aug 18, 2010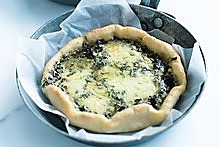 Basic pizza. Photo / Chris Court
1 Tbsp dry yeast
1 Tbsp olive oil
1 tsp caster sugar
2 1/2 cups plain flour
1 cup lukewarm water
1 tsp sea salt flakes
1 Place the yeast, sugar, water and oil in a bowl and mix to combine. Set aside in a warm place for 5 minutes or until bubbles appear on the surface.
2 Place the flour and salt in a bowl and mix well to combine. Make a well in the centre and pour in the yeast mixture. Mix together with well-floured hands to form a dough.
3 Knead the dough on a lightly floured surface for 8 minutes or until smooth and elastic. Place in a lightly floured bowl, cover with a damp tea towel and set aside for 30 minutes or until doubled in size.
4 Preheat the oven to 220C. Divide the dough into equal-sized balls of your desired quantity and roll out on a lightly floured surface to make round bases.
5 Place bases on baking trays lined with non-stick baking paper. Top with your favourite toppings and bake for 10-15 minutes or until the topping is golden and the base is crispy.
* To make the pesto and bocconcini pizzas top bases with store-bought pesto and bocconcini and fold the sides of the dough to slightly enclose.
Basic pizza sauce
1 cup tomato puree
1/2 cup basil leaves
1 clove garlic, crushed
Sea salt and cracked black pepper
1 Place the tomato puree, basil, garlic, salt and pepper in the bowl of a small food processor and process until smooth. Makes 1 cup.
2 Spread the sauce over the base, using the back of a spoon. Make sure you don't go all the way to the edge, leaving a crust so you can pick up each slice.
By Donna Hay
Copyright ©2016, NZME. Publishing Limited