Auckland: Chinese footprints
By Manying Ip
5:30 AM Thursday Aug 26, 2010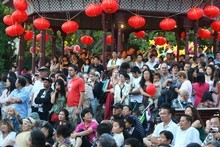 Crowds gather under lanterns at the Chinese Lantern Festival in Auckland's Albert Park. Photo / Paul Estcourt
By the turn of the 20th Century Auckland had its own "Chinatown".
In several narrow, steep streets near the city centre - Grey's Ave, lower Wakefield St, Hobson St and Victoria St - Chinese families had established small businesses such as fruit shops, grocery stores and hand laundries where they worked long hours and usually lived upstairs or at the back.
The houses were inexpensive and the area was not far from the railway station and the wharf. These few streets were the social centre of
a Chinese community. The headquarters of the Chinese Nationalist Party (Kuomintang/Guomindang), the Chee Kung Tong (better known as Chinese Freemasons), and also the New Zealand Chinese Association's Auckland Branch were all in Grey's Ave.
It was also the location of a couple of illegal gambling houses which were subjected to periodic police raids.
Early in the 20th century the community consisted of only 296 men, and 28 females, though Chinese had been in Auckland for a full generation. Migrants such as Chan Dar-Chee had arrived in the late 1860s. Customs officials mistook his given name, Chee, to be his surname and he and his descendants became known as the "Ah Chee" family.
They survived and prospered in an intensively anti-Chinese era. All Chinese immigrants had to pay a £100 poll tax and faced a test of one hundred English words picked at random at the port of entry.
Unusually, Chan Dar-Chee had been able to bring his wife, Madame Joong, with him to New Zealand. She was a Christian, well-educated and could read and write English. Their two sons, William and Clement, were born
in Auckland, in 1889 and 1892. With few Chinese women in the country a Chinese birth was a rarity. The New Zealand Observer featured a photograph of "Willie Ah Chee, Aged 7 years" on its front page (July 1, 1898).
The family lived in Parnell, and used Carlaw Park as a market garden.
They had a greengrocers in what was known as Little Queen St, and a depot in Stanley St.
By 1880, Ah Chee & Co had opened a fruit shop at 13 Queen St, opposite to the Central Post Office and another at the corner of Queen and Quay Streets, opposite the ferry building.
The company became a vegetable supplier to shipping lines and Auckland's hotels. It also exported two valuable commodities to China, rabbit fur and an edible tree fungus - mu'er - that grew in abundance in Taranaki and other parts of the North Island.
The two boys went to Auckland Grammar and became keen boxers and skilful racing car drivers. In business they frequently entertained associates and local dignitaries at lavish parties.
During the first three decades of the 20th century, Ah Chee & Co owned at least seven shops in Central Auckland.
Clement Ah Chee had two children: Betty June (born 1922) and Thomas Henry (born 1928). Betty grew up to marry Ken Choy and they owned the Great Eastern Supermarket. Thomas Henry, better known as Tommy Ah Chee, would make his name as the founder of Foodtown and the Georgie Pie chain.
Very few Chinese were as successful as the Ah Chees. Service industries such as laundry, market- gardening and grocery stores involved long working hours and intensive labour but comparatively modest capital outlay.
Most importantly, they were not in direct competition with European New Zealanders. By the 1900s, the Chinese ran market gardens in Western Springs, Panmure, Mangere and Avondale. The area of market gardens
below Great North Rd and Surrey Crescent was known as Chinaman's Hill until the late 1990s.
Thomas Wong Doo lived there, collecting unchlorinated water from Western Springs with a pole and buckets for his prolific and extensive gardens. He had arrived in Auckland in the 1890s aged 16. Like most of his countrymen, he became an itinerant vegetable vendor until he accumulated enough capital to run a Chinese grocery-cum-dried food
store in Victoria Street.
Later Thomas Doo & Co had a linen and fabric store in Hobson St where well-known Chinese grocery supply stores Wah Lee and Seoung Yuen, remain today.
Grocers like Thomas Doo & Co, and Wah-Lee were never just stores. They were community motels, banks and post offices all rolled into one.
There were always visitors in the stores. Many stayed around either waiting for boats to go back to China, or for work after their arrival. Many other people dropped in from the small towns when they came to Auckland to get Chinese supplies.
The attic was used to store rice and dried fungus, but frequently four or five people, even whole families, lived there. Visitors to the Doo stores spoke fondly of the hospitality. Customers could pick up their mail and news from home. The Doos had Hong Kong newspapers which were shared, and customers trusted them to send remittances home.
New Zealand customs officials also frequently called upon the Doos as interpreters. Since there were very few Chinese women in Auckland the Doo women shared out their brew of Chinese herbal medicines to help
fight the 1918 influenza epidemic.
The family's philanthropic work earned the good will of the community, which helped their business considerably. Chinese merchant families
known to New Zealand authorities were also rewarded with generous
import licensing quotas.
Besides grocery and general merchandise, the Doos started the Golden Dragon cafe (1930-1969) in Grey's Ave and in 1940 a stately family home consisting of eight spacious bedrooms on the first floor was built at the corner of Hobson and Cook Sts.
The Thomas Doo Building housed five sons and their wives as well as the patriarch and matriarch. The family shop was on the ground floor, and there were spare rooms used as dormitories and hostels for visitors.
In time the Doos became known as Auckland's firecracker suppliers and did roaring business every Guy Fawkes Day. In the 1950s, when the third
generation Doo sons staged a big public fireworks show in Western Springs, probably few recalled that their great-grandfather used to fetch water for his market gardens from the same spot.
Manying Ip is professor of Asian Studies at the University of Auckland.
By Manying Ip
Copyright ©2016, NZME. Publishing Limited