Celebration cookies
1:00 AM Sunday Jul 4, 2010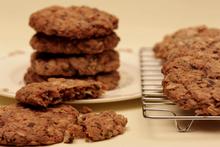 Celebration cookies. Photo / Ian Jones
200g butter, diced
1 cup sugar
1 cup brown sugar
2 eggs
1 tsp vanilla paste
2 1/2 cups rolled oats
1 tsp baking soda
1 tsp salt
1 tsp baking powder
2 cups flour, sifted
1 1/2 cups chopped cashew nuts
400g chocolate drops
1/2 cup threaded coconut
1 Preheat oven to 160C. Line baking trays with non-stick baking paper.
2 In a mixing bowl, cream the butter and the two sugars together until soft.
3 Beat the eggs and vanilla then mix in the butter and sugar.
4 Mix in the remaining ingredients, portion into 30g balls and press flat.
5 Place on to the trays and refrigerate for 30 minutes.
6 Place in oven and bake for 25 minutes.
7 Remove and allow to cool. Store in an airtight container.
Copyright ©2016, NZME. Publishing Limited