Brian Rudman: Arts centre meddlers forget names are an important link to the past
4:00 AM Monday May 31, 2010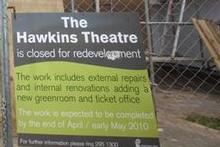 Photo / The Aucklander
Poor old George Hawkins must be wondering if it's not time to change his deodorant.
As though fending off efforts by Labour Party apparatchiks to get the veteran Manurewa MP to retire was not enough hassle, now a group of Papakura District councillors want his name removed from the local Hawkins Theatre.
As mayor for seven years in the 1980s, Mr Hawkins was instrumental in having the popular performing arts centre built, using the proceeds from the sale of the district's Mangere airport shares to fund it.
It was opened in July 1990, and grateful fellow councillors insisted on naming it after their popular leader.
But in February this year, five of the district's nine councillors voted to rename the theatre the "Papakura Performing Arts Theatre to recognise it as an icon of the identity of the Papakura District."
All heart, they voted to rename the foyer after the former mayor so "that the Hawkins name be retained".
Councillor Owen Pringle, who heads this attempt to rewrite history, argues it is necessary to preserve the name of Papakura once it becomes part of the Super City this year. But Mayor Calum Penrose, who supports the status quo, says there will still be plenty of buildings such as the Papakura Swimming Pools and the Papakura Recreation Centre to ensure that.
Not only are there more important issues to worry about, he also reckons it was "piss poor" of the name changers not to consult Mr Hawkins before they went public. He wonders if the local Sir Edmund Hillary Library will be next.
Since the original vote, local support for the existing name has forced some back-tracking, and a round of public consultation is under way.
Locals can submit on whether they want a name change and if so, do they prefer Arthouse Papakura, Papakura Arts Theatre or The Arts-Papakura. If a change takes place, the rebranding will cost $20,000.
Looking on the bright side, Mr Hawkins has had his name up in lights for 20 years, which is about the same length of time Russian dictator Joseph Stalin had on the city letterheads, before the city of Stalingrad tired of the notoriety and reclaimed its old name of Volvograd in 1961.
Having a hall named after you is rather small beer, compared to a whole city or a mountain, but that just makes removing it all the more petty.
Mayor Penrose tells me that in principle he's not in favour of naming public buildings after local politicians. You put your hand up to serve the community and do the job, he says, and that should be reward enough.
However, when he became mayor nearly three years ago, he talked to Mr Hawkins and councillors who had been around in the 1980s about the arts centre's name and is happy that it was instigated by the councillors to commemorate "the work Mr Hawkins had put in behind it".
He says it's now well known local and nationally so why change it? Why indeed. It's not as though Auckland is littered with monuments to politicians great and small.
The ones we have are rather random. Hugh Watt Drive along the Onehunga waterfront, for example, commemorating a local MP, and Dove-Myer Robinson Park in Parnell and Fickling Centre in Mt Roskill, marking two local politicians, leap to mind.
They help link the present with the past, which is no bad thing. The Hawkins saga reminds me of historian David Verran's little campaign a couple of years back to get a sign put up in Shadbolt Park, New Lynn, noting that the reserve was named after Spanish Civil War nurse Rene Shadbolt, not any other Shadbolt.
By a vote of the local borough council in February 1942, the official name was to be Sister Rene Shadbolt Park, but in recent years only the Shadbolt bit had survived.
Amusingly, when Mr Verran's request was reported, Tim Shadbolt, one time mayor of the old Waitemata City, objected rather gracelessly that Shadbolt Park now "tends to cover the whole family".
Mr Verran won his battle. Well, sort of.
Waitakere City agreed a plaque to Sister Rene would be put up, but lack of money means it hasn't yet happened. Hopefully they can raid the petty-cash tin to do the job before amalgamation in November and memories again distort.
We need these quirky little reminders of where we've come from.
Copyright ©2015, NZME. Publishing Limited