Tomato and capsicum soup with goat's cheese toast
By Donna Hay
4:00 AM Saturday Mar 20, 2010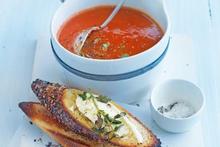 Tomato and capsicum soup with goat's cheese toast. Photo / Supplied
Serves 4
1 Tbsp olive oil
2 cloves garlic, chopped
2 Tbsp oregano leaves
1 onion, chopped
285g store-bought roasted capsicum
2 x 400g can chopped tomatoes
3 tsp caster sugar
3 cups chicken or vegetable stock
2 tsp store-bought grated horseradish
Sea salt and cracked black pepper
8 slices sourdough baguette
150g goat's cheese
8 oregano sprigs, extra
Olive oil, extra, for drizzling
Preheat oven to 220C. Heat the oil in a saucepan over medium heat.
Add the garlic, oregano and onion and cook for 3-5 minutes or until tender.
Add the capsicum, tomato, sugar, stock, horseradish, salt and pepper and bring to the boil.
Remove from heat and blend with a hand-held blender until smooth.
Spread the baguette slices with the cheese, top with extra oregano and drizzle with extra olive oil.
Place on a baking tray and bake for 3-5 minutes or until golden and crisp. Serve with the soup.
By Donna Hay
Copyright ©2015, NZME. Publishing Limited