Fonterra payout lift comes with warning
4:00 AM Tuesday Nov 10, 2009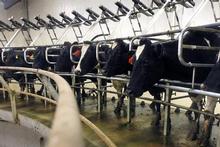 Economists say farmers have had to pare budgets to the bone and will be unlikely to rush back into spending. Photo / Sarah Ivey
The 19 per cent increase in Fonterra's forecast payout will lift dairy farmers' incomes by between $1.2 billion and $1.3 billion, economists say, but how much it boosts the wider economy will depend on how much they allocate to reducing debt.
Fonterra lifted its forecast payout to farmers to $6.05 per kilogram of milksolids, up from the $5.10 announced in September.
ANZ National Bank economist Kevin Wilson said the increase would return the sector to profitability and reduce stress levels.
But with the dairy sector's debt levels having increased by around $4 billion over the past year, debt repayment would be uppermost in many farmers' minds, he said.
Faced with earlier, much lower, forecasts from Fonterra, farm budgets had screwed costs down tight, Wilson said.
"Many have been surprised how much cost can be taken out and still leave the business sustainable. There will be a temptation to take the foot off the brake, but overdraft levels will hold that temptation in check," he said.
Westpac economist Doug Steel said the higher forecast was unequivocally good news for the economy. "It will relieve a lot of the cashflow pressures farmers have been under in the past 12 months," he said.
"Some that have put expansion plans on hold may dust them off and have a look around. But there may be a fraction more caution than in the last run-up."
There were words of caution in Fonterra's announcement yesterday.
"A big gain like this in the payout forecast just shows how much volatility there is in the market," chairman Sir Henry van der Heyden said.
"It's heading in the right direction ... but we also know there's a risk of rapidly rising prices bringing on more milk from other countries."
Although the company has some currency hedging in place, significant uncertainty about the medium to longer-term outlook for the exchange rate remained.
Steel said: "With demand still improving, on the back of world recovery, supply looking relatively tight, and especially with so much momentum, it feels like there is more upside than downside. But ... anything can happen both in the commodity price market and the currency."
Copyright ©2016, NZME. Publishing Limited