Did Civil Defence respond appropriately to the tsunami warning?
12:57 PM Thursday Oct 1, 2009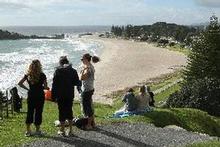 People gather on the high ground of Mt Maunganui to watch for a possible tsunami. Photo / Alan Gibson
An external review of Civil Defence's response to the Samoan tsunami threat will focus on the distribution of public information and the clarity of the messages.
The emergency response body issued a tsunami warning about an hour after the 8.3 magnitude quake struck near Samoa early in the morning on September 30.
Civil Defence was criticised following the tsunami threat for conflicting public reports and not advising some important utilities.
Did Civil Defence respond appropriately to the tsunami warning? Here is the latest selection of Your Views:

Copyright ©2016, NZME. Publishing Limited