Have Henry, Hansen and Smith done enough to keep their jobs?
12:07 PM Monday Sep 28, 2009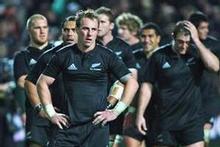 The All Blacks must reflect on why they have lost four of eight tests this year. Photo / Getty Images
After a tough week leading into Saturday's match, the All Blacks win against the Wallabies would have eased the pressure on the coaching panel - but was it enough for them to keep their jobs? Should Graham Henry, Steve Hansen and Wayne Smith continue to coach the All Blacks through to the World Cup or should they get the axe now before it is too late?
And have the Wallabies no chance of winning the World Cup?
Here is the latest selection of Your Views:

Copyright ©2015, NZME. Publishing Limited