Sean Fitzpatrick: Positive start to series
4:00 AM Sunday Jul 19, 2009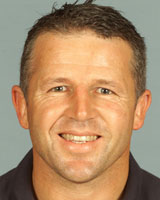 For someone who has been banging on a bit about the lack of depth in New Zealand rugby, the test against the Wallabies was highly positive.
The difference between the two teams was the respective benches - and I think a certain Mr Henry got one up against a certain Mr Deans in the style of play that was adopted and the way the bench was used.
For the All Blacks, I thought Kieran Read, in particular, was dynamic when he came on. He was player of the match for about 25 minutes there or it was between him and Keven Mealamu.
Piri Weepu also played a big hand off the bench and gave the All Blacks a lot of grunt - he really has matured as a player. He takes charge of the area around the rucks and mauls and that's where the All Blacks were making ground in this match, not so much out wide.
I'd say that Mealamu is clearly the best No 2 in New Zealand at the moment and I think he has done enough to start. I'd start with Weepu at halfback as well.
In contrast, the young Aussie players that came off the bench were exposed, I thought.
Just as well - as the Australians played really well in that first 20 minutes and they could have gone out 17-3 if they'd taken their opportunities. It took the All Blacks 20 minutes to right the ship but the fact that they did so, and did it well, was pleasing.
The other replacement who impressed me was Owen Franks. I thought he scrummaged well and performed brightly around the field - another good hand well played.
It wasn't a perfect display by any means and they'll want to work hard on that first 20 minutes and some of the lineout problems but this was a big step up from the previous test.
Stephen Donald did well even though he was under pressure in that first 20 minutes and he made mistakes. But then the All Blacks started gaining control and Matt Giteau started being put under pressure and drifted more out of the game - and while Berrick Barnes looked smooth at the start, you didn't see much of him once the tide had turned.
George Smith was a bit of a Lone Ranger in the Wallaby pack and Read did a great job in taking the pressure of Richie McCaw when he came on - and Smith never had that luxury.
So, it's a positive outcome and a more positive outlook although I wouldn't get too carried away. The Australians made mistakes and we got the rub of the green from the referee - but it was good to see the win being taken.
Copyright ©2015, NZME. Publishing Limited