Should Auckland City fund a new elephant herd?
11:11 AM Tuesday Mar 3, 2009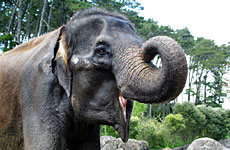 Kashin, who turned 40 in November, is under constant medical surveillance for arthritis.
A $13 million extension to Auckland Zoo could make it home for the only elephant herd in Australia and New Zealand.
Auckland City Council's arts, culture and recreation committee has approved a proposal to enlarge the zoo's existing enclosure to six times its size, taking in two areas of Auckland's Western Springs Park.
The proposed areas, which are next to the zoo's present elephant enclosure, will include an exercise area, a new elephant bull house, a public viewing area and a boardwalk.
Should Auckland City fund a new elephant herd? Here is the latest selection of Your Views:
Copyright ©2015, NZME. Publishing Limited