Yeti find linked to Sir Ed
5:00 AM Tuesday Jul 29, 2008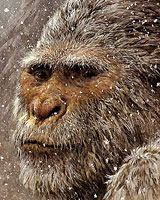 The yeti, or abominable snowman, as seen in an artist's impression.
British experts say tests on hairs claimed to come from a yeti in an Indian jungle show they bear "a startling resemblance" to those brought back from the Himalayas by Sir Edmund Hillary nearly half a century ago.
Yeti enthusiasts have greeted the news with excitement but appear to be overlooking one problem - scientists concluded the hairs Sir Edmund found probably came from an antelope.
"The hairs are the most positive evidence yet that a yeti might possibly exist, because they are tangible," ape expert Ian Redmond, who is co-ordinating the research, told the Independent in London.
He said they had the same cuticle pattern as hairs Sir Edmund took to England and gave to the Natural History Museum.
The latest two short hairs - 33mm and 44mm long - were picked up in thick forest in the Garo hills in the mountains of northeast India five years ago after a forester reported seeing a yeti.
Sir Edmund led an expedition at much higher altitudes in Nepal in 1960, and investigated reports of yeti footprints on Ripimu Glacier at the head of the Rolwaling Valley.
But hidden microphones and cameras enmeshed in tripwires failed to capture a Nepalese yeti's likeness - or record its famous high-pitched whistle - and the Hillary team said "yeti" footprints they had found were the tracks of a relatively small animal and had melted in the sun.
Sir Edmund borrowed a yeti scalp from Khumjung Gompa, a Sherpa temple, to take to America and Europe to be looked at by scientists who eventually said the scalp had been made from the hide of the serow antelope - probably intended as a ceremonial hat but gradually acquiring the status of an actual scalp.
A "yeti skin" was identified as a blue bear.
- NZPA
Copyright ©2015, NZME. Publishing Limited