Smacking petition runs out of time
5:00 AM Tuesday Jun 24, 2008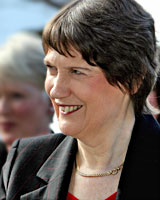 Helen Clark
Prime Minister Helen Clark has virtually ruled out a referendum on smacking at this year's election, saying there will not be time to organise one.
Campaigners trying to overturn the anti-smacking law yesterday handed in their second attempt to gather the numbers required to force a referendum.
But the Prime Minister indicated that any referendum was likely to be later, rather than sooner.
Asked why it could not be held at the same time as the election, which must be held by November 15, she replied: "Just in terms of sheer organisation, I do not think that is possible".
Helen Clark said Parliament had spoken on the issue with a near "unanimous mind", and the most dire predictions about the changes had not come true.
Kiwi Party leader Larry Baldock handed over more than 390,000 signatures backing the call for a referendum on the question: "Should a smack as part of good parental correction be a criminal offence in New Zealand?"
Another attempt this year failed when too many signatures were ruled invalid.
The Office of the Clerk of the House will now have two months to check that the petition has been signed by 10 per cent of registered voters, or about 290,000 valid signatures.
If it is, the Government will have one month to name a date for a referendum. But it can delay any vote on the issue for up to a year.
Last weekend marked the first anniversary of the so-called anti-smacking law
Its architect, Green MP Sue Bradford, said it was working well and should be left alone.
Ms Bradford's legislation amended section 59 of the Crimes Act to remove the defence of reasonable force for parents who physically discipline their children.
The amendment, supported by an overwhelming majority in Parliament, gave police discretion to judge whether a reported offence warranted prosecution.
The law is to be reviewed in June next year, two years after its introduction.
Ms Bradford said there was evidence the law change was working as intended.
"Over the past couple of years more and more New Zealanders are turning away from using violence in bringing up their children," she said.
Deputy Commissioner Rob Pope said the police had made a second review of the law's effect.
"During the first three months of the current review period, there was an increase in the number of smacking events attended by police," he said.
"The number decreased during the second three-month period to levels similar to pre-enactment levels."
Mr Pope said even with the increase, the numbers were still low.
"A rise in smacking cases in the September-to-January phase will be driven by a number of factors including seasonal variation.
"This phase recorded the Christmas and New Year period, a traditionally stressful time for families."
- NZPA
Copyright ©2015, NZME. Publishing Limited