WWE stars body slam into Auckland (+photos)
5:00 AM Thursday Jun 12, 2008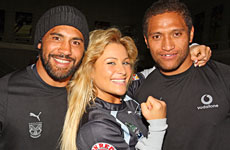 Wrestling star Natalya lets Vodafone Warriors Ruben Wiki and Manu Vatuvei know who's boss at Mt Smart Stadium. Photo / Paul Estcourt
Big-time professional wrestling came to Vector Arena in Auckland last night as WWE wrestlers from the Smackdown and Extreme Championship Wrestling stables bumped and bashed their way through a series of matches, delivering drop kicks and body slams before thousands of excited fans.
Earlier, the Vodafone Warriors had their chance to size themselves up against the talent when MVP, CM Punk and Natalya visited the rugby league squad at their Penrose headquarters. The three were greeted with a thunderous team haka led by Wairangi Koopu.
WWE diva Natalya, daughter of 80s legend Jim "The Anvil" Neidhart, is on her first visit to New Zealand. The haka stunned the third-generation star, but it went down a treat.
"They're very sexy", Natalya said of the Warriors. "Strong leg muscles!"
The Canadian beauty is single, but not looking to maintain a relationship on the road. "It'd be hard to do on-the-go, and I love being a diva."
Warriors prop Ruben Wiki, who brought his son to the meeting and presented each wrestler with a team jersey, told the Herald his family regularly watched Smackdown on television. He was looking forward to the action at Vector.
"I'll be wearing my Queensland shirt tonight", said Wiki, referring to the State of Origin II match last night in which his teammates Steve Price and Brent Tate were to turn out for the Maroons.
While the Warriors made an impression on the chatty MVP, he held his own opinion about who had greater athletic credentials. "I'm used to being around guys above average size," he said after posing for photographers in his new jersey.
"To play rugby you need one ball. To be a professional wrestler, you need at least two."
Batista, a hulking specimen of a man from Washington DC, performed in the evening's main event - a contest for the World Heavyweight Championship held by Canada's "Rated-R Superstar", Edge.
ECW Heavyweight Champion Kane and 19-year WWE veteran the Undertaker competed in a tag-team match against former Olympic weightlifter Mark Henry and the Great Khali.
The Undertaker is making his third visit to New Zealand after tours in 2006 and 2007, but according to the Smackdown televised storyline, this tour may be the Kiwi fans' last chance to see him. Last week he was retired by Edge after a torrid world championship match.
Fans came from around the North Island to see their heroes in action. Six-year-old Craig Young found the lights and pyrotechnics overwhelming, but enjoyed seeing wrestler Matt Hardy in action.
Dave Mills and his son Jakobb made the most of family passion. "We drove up from Waiuku, he said. "My daughter wanted to come, but it's a bit late for her."
And what do the wrestlers expect from the tour? WWE Tag Team Champion John Morrison - who counts Mahatma Gandhi, Jackie Chan and "Macho Man" Randy Savage as his idols - says that he expects his team's winning record will remain intact.
His partner, former MTV reality star the Miz, added: "We are one-time WWE Tag Team Champions, because we've never lost. Be jealous!"
* Before the arena doors opened last night, a handful of Kiwi wrestlers each hoping to be the next big thing had their chance as they were put through their paces by WWE talent scouts.
Successful candidates will be flown to Florida to join a WWE training camp.
Local wrestler Matthew Wilson, aka Max Damage, had a positive feeling after the tryout session.
"Wrestling in front of the Undertaker was great", he said.
The WWE Smackdown/ECW tour wraps up its New Zealand leg tonight with a performance at Christchurch's Westpac Centre.
* Kiwi fans who want a regular fix of live professional wrestling can see the local stars of Impact Pro Wrestling in action every month.
Copyright ©2015, NZME. Publishing Limited