Cafe admits serving detergent instead of wine
8:08 AM Tuesday May 6, 2008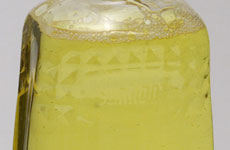 Is it wine or washing-up liquid? A Queenstown cafe failed to spot the difference. Photo / Brett Phibbs
Two women had to be hospitalised after a cafe poured them a glass of dishwashing liquid instead of mulled wine, the Queenstown District Court was told yesterday.
Chico's Restaurant Ltd admitted selling food containing an extraneous matter - sodium hydroxide - which caused injury, before Judge Alistair Garland, the Southland Times reported.
Crown prosecutor Sarah McKenzie said two women were taken to hospital after drinking the poisonous liquid on July 9 last year.
Customer Sarah Ferguson had bought a glass of mulled wine from Queenstown's Old Man Rock Cafe and immediately spat out the offending drink after noticing a burning sensation around her lips and mouth.
A worker at the cafe, Bethany Sim, offered to test the mulled wine and immediately suffered a similar but more extreme reaction than Ms Ferguson.
"A check by cafe management indicated that a mulled wine container had unfortunately been filled with dishwashing detergent," Ms McKenzie said.
An investigation three days after the incident showed the two liquids were mixed up after 20 litres of dishwashing liquid was delivered in a container formerly used to hold "Mountain Thunder" mulled wine.
Ms McKenzie said the detergent sticker was placed over the old mulled wine label, but some of the previous label was still visible.
Queenstown Cleaning Suppliers, who supplied the dishwashing liquid, had recycled about 50 of the Mountain Thunder containers for use with chemicals.
The container, which had the liquid that poisoned the two women, was not stowed properly with other chemicals, the court was told.
Ms McKenzie said management at the premises revised their processes for handling inbound chemicals the week following the incident.
The company's lawyer Dale Lloyd entered the guilty plea but made no further submission.
The company will be sentenced on June 16.
- NZPA
Copyright ©2015, NZME. Publishing Limited