League: Wounded Warriors repel Raiders to keep home record (+photos)
5:00 AM Monday May 5, 2008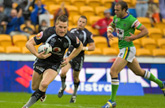 Centre Brent Tate scores the Warriors' first try in their 14-6 win over the Canberra Raiders at a miserable Mt Smart Stadium yesterday. Photo / Paul Estcourt
It was ugly, slow, with lots of mistakes, scrums and penalties but the Warriors were beaming after overcoming a huge injury toll to grind down the Canberra Raiders in the murk at Mt Smart Stadium yesterday.
It had poured down throughout the curtain-raiser and though that backed off to drizzle for the main game, the conditions were as slippery as they get at the well-drained Mt Smart. That kept the crowd down to 7358, but they were noisy.
The Warriors handled the conditions better, just the one error in the first half, winning the completion rate statistics 81 per cent to 54.
The Warriors beat the bigger Canberra pack in go-forward and so the kicking game was better, though there is still room for improvement.
New teen prop Russell Packer made a solid start and did not look out of place. Half Grant Rovelli took the line on more and his work with Micheal Luck was better. Brent Tate and Ryan Shortland dominated in mid-field and bench hooker Ian Henderson is providing more impact.
"The biggest focus for us tonight was defence and I was pretty happy with that," said coach Ivan Cleary.
Captain Micheal Luck: "They attacked our line a lot in the middle 40 [minutes], they've got pretty good halves, so there's a pretty goodfeeling in there [the dressing room] right now."
The early exchanges were even. Repeat knock-ons from Raiders props Troy Thompson, Scott Logan and Dane Tilse early in the tackle count in front of their own posts robbed them of their momentum. That was down to defensive pressure from the home side as much as it was slippery conditions, and as the half wore on the home side enjoyed better attacking opportunity, the visitors tackled.
The Warriors took a penalty for a hold-down at 19 minutes and at 20 minutes Michael Witt produced a kick-and-regather and Brent Tate scored and it was 8-0 at quarter-time.
They had determined all week not to allow easy points and there were none in the first spell. They might have had more but an obstruction call was made after Grant Rovelli steamed through traffic. The Raiders finished the 40 hard on attack.
They needed three consecutive penalties, two goal-line drop-outs and a lucky bounce-back from a kick before Lincoln Withers got their first points at 51 minutes, no shame to the Warriors as weight of possession told.
Shortland was first to an in-goal chip from Nathan Fien to make it 14-6 and from there the Raiders killed their last chances with further errors.
Canberra's coach Neil Henry said they'd turned up with half a game. "One side controlled the ball and one side didn't. The attitude and defensive effort was there but they had enough possession to run up 50 points on us.
"If you talk about focus and execution with the ball, we didn't have it. Parts of our attack were inept, not up to NRL standard."
The Warriors now have a week off, with Steve Price an outside chance to return in their next game away to Penrith, Jerome Ropati on better odds and Ruben Wiki and Sonny Fai sure to be available for selection.
After eight rounds, having played four of the top teams away while minus star performers, a four-from-four record looks damn good.
Copyright ©2015, NZME. Publishing Limited