Global interest expected in defrosting of 'T-Rex' squid
5:00 AM Thursday Apr 17, 2008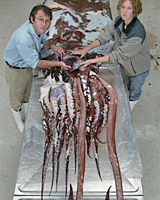 Steve O'Shea and Kat Bolstad with a colossal squid. Photo / Mark Mitchell
Researchers expect huge scientific interest as they thaw the largest known specimen of the world's biggest invertebrate, a colossal squid, at the Museum of New Zealand on April 30.
The squid - caught by the longliner San Aspiring in the Ross Sea last year and snap-frozen - will be examined by two New Zealanders who are world leaders in the study of squid, Steve O'Shea and Kat Bolstad of Auckland University of Technology.
They will be assisted by Tsunemi Kubodera of Japan's National Museum of Nature and Science.
Dr O'Shea spent years trying to get the first pictures of giant squid in the wild but was beaten to it in 2006 by Dr Kubodera, whose team hooked one and allowed it to dangle in front of a camera for four hours, until it tore off its own tentacle to get free.
The thawing and examination will be filmed by an American company, Natural History New Zealand, for a Discovery Channel in-depth documentary programme to screen worldwide late this year.
The museum's natural environment director, Carol Diebel, said the squid was unique and important, and it was rare to be able to study such a specimen up close.
The squid, weighing 495kg and estimated to be 6m to 8m long, will be removed from storage in a walk-in freezer and placed in a temporary tank filled with a saline solution.
Saltwater freezes at a lower temperature than freshwater, so the squid will remain chilled below 0C, but the block of freshwater ice around it will melt in a gradual defrosting process over three to four days.
Among other things, the scientists will determine the squid's sex and take tissue samples for DNA analysis.
They will have to work quickly because the defrosted squid will have to be preserved in a formalin solution before it starts to decay. After three or four weeks "fixing" in the formalin, it will be put on display in a purpose-built tank at the end of the year.
Though the public will not be allowed into the thawing and dissection laboratory at the museum in Wellington, people will be able to watch the process in a webcam broadcast on the museum's website and to attend lectures by the scientists on May 1.
Colossal squid are found in Antarctic waters and are thought to be more ferocious predators - with scores of sharp hooks to pull prey into their mouths - than the more docile giant squid found around New Zealand. The giant squid has suckers lined with small teeth.
Only a handful of colossal squid have been sighted and when the previous best specimen was caught in 2003 - also while eating a hooked toothfish - Dr O'Shea said of that 6m immature female: "This squid is a really nasty, aggressive sort of squid ... a gelatinous blob with seriously evil arms on it. Without any doubt if you fell in the water, you could be shredded to bits by a colossal squid. It is the T-Rex of the oceans."
Many of the other specimens found have only been bits in the stomachs of sperm whales. The species' existence was revealed in 1925 when two arms were found in the stomach of a sperm whale, and a 4m specimen was caught by a Russian trawler in the 1970s.
The colossal squid and its prey - Patagonian and Antarctic toothfish, which are heavily targeted by fishers - are thought to form part of a deepwater ecosystem about which scientists know virtually nothing.
MONSTER CATCH
* A colossal squid caught in the RossSea is to be examined at the Museum of New Zealand.
* The squid weighs 495kg and is 6m to 8m long.
* Colossal squid is the T-Rex of the ocean.
- NZPA
Copyright ©2015, NZME. Publishing Limited