Air NZ, Qantas set to ask Boeing for delay compensation
1:40 PM Thursday Apr 10, 2008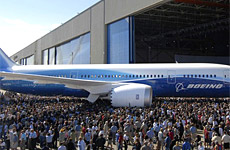 Boeing's delight at launching the Dreamliner in Seattle last year has been tempered by delays with the roll-out.
Air New Zealand and Qantas are likely to seek compensation from Boeing following the announcement of a two-year delay in delivery of their 787-9 Dreamliner aircraft on order
Air New Zealand has eight 787-9 aircraft on firm order with delivery of the first initially expected around the end of 2010, with all aircraft delivered by late 2013.
The delivery of the first aircraft is now likely in early 2012.
The airline says it will now be entering into compensation discussions with Boeing.
Overnight Boeing said production difficulties had led to the delays for the aircraft made largely of carbon fibre and promises significant fuel saving. First deliveries are not expected until late next year, almost 18 months later than planned.
Air New Zealand Chief Financial Officer Rob McDonald said while disappointed, Air New Zealand has sufficient flexibility in its existing portfolio of aircraft to ensure no capacity shortfall.
"However we are yet to determine if there will be any impact on our network expansion plans. We are obviously very disappointed that in the current environment of high jet fuel prices, we will not be able to take advantage of the significantly improved economics that this aircraft will provide in the timeframes we initially expected."
The airline had not finalised routes, but the 787's long range would allow non-stop services to South America and deep into the United States.
Air New Zealand also has four 777-300ER aircraft on order from Boeing which will be delivered in 2010 and 2011 and their delivery remains on schedule.
Meanwhile, Qantas also said today it's entitled to damages from Boeing for the delay.
Qantas said today the damages would be used to offset the cost of leasing alternative aircraft to make up for the 787.
But Qantas says it had anticipated the delay and had already made arrangements to cover the resulting capacity shortfall.
Qantas chief executive Geoff Dixon said Qantas was not surprised by the further delay announced by Boeing.
"We are, however, very disappointed that Boeing has again delayed the delivery schedule," Mr Dixon said.
"That said, we did anticipate a further delay and have been working on contingencies for some time."
- additional reporting by AAP
Copyright ©2015, NZME. Publishing Limited