Cheating death in the deep (+slideshow)
9:00 AM Friday Mar 7, 2008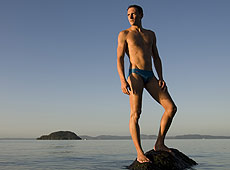 William Trubridge will attempt to dive to a world record 84m at Dean's Blue Hole in the Bahamas. Photo / Richard Robinson
Every day, William Trubridge thinks about dying.
He's a fit, talented young New Zealander, living between the Bahamas and Italy, teaching people to share the activity he's passionate about, and swimming every day in some of the world's bluest, clearest water.
But Trubridge is a freediver, and that means it's a dark idyll.
Death can never be far from his thoughts.
Freediving is essentially scuba without all the gear. In nothing but a pair of togs - or a wetsuit if it's chilly - Trubridge strides into the water, takes several breaths as calmly as he can, makes a little duck-dive and and begins swimming downwards.
After the first 20 metres or so, Trubridge's body loses its buoyancy and the sea starts pulling him down.
He no longer needs to swim, he just plummets into the darkness headfirst, arms flat by his sides. Everything is silent. Inside his head, Trubridge sings to himself, or counts.
Down, down he goes. Sometimes there's a voice in his head, whispering.
"Today's not the day," it says, or "You're mad, this is mad, you've gone too far."
On the surface, his supporters are waiting in scuba gear, ready to dive down and rescue him should he lose consciousness.
Then, suddenly, Trubridge stops.
He somersaults and begins swimming back up again. It's agony at first - he's so deep, and so heavy, that every stroke requires massive effort. It's a graceful breastroke, his long limbs arcing his body upwards.
To the fish, and the scuba diver holding a video camera nearby, there's no indication Trubridge's body is starving for oxygen; no sign of panic, no urgency on his face.
As he gets closer to the surface, he becomes more buoyant, lessening the intensity of each stroke.
Eventually, after four or five minutes without a breath, he bursts through the surface, gulping air into his lungs, hanging on to an inflatable ring and - if he has set a new world record - beaming with delight.
"You have to accept the idea, while you're descending, that if you keep going down, it will kill you. On the way down you have to completely accept that idea, that you're killing yourself," 28-year-old Trubridge says on a brilliant Auckland day.
"Without wanting to sound too morbid, it's like taking as big a step as you dare to the underworld across that line. When you turn around at the bottom and come back up, your will to live has to match equally the extent to which you have been prepared to kill yourself."
He's sitting in a cafe in Newmarket, wearing shorts and a T-shirt, gazing into the middle-distance.
"It's about the balance between life and death," he says.
For a while, Trubridge was officially the world's deepest man - in an athletic sense as well as a philosophical one.
In April last year, Trubridge broke the world record for constant weight freediving without fins, descending to 82 metres.
Later this year he will attempt to break the record (which has since been pushed to 83 metres) in a cave known as Dean's Blue Hole on Long Island, Bahamas, where Trubridge works as a diving instructor.
It's an extraordinary natural phenomenon - the name says it all, really.
From the surface, it looks like a round, extraordinarily blue pond, but it's actually a 200-metre hole in the limestone rock, formed by aeons of rainfall, and now filled with seawater.
From his earliest days, Trubridge has been fascinated by the water. He was only 18 months old when his family left their native England to sail to New Zealand in their own yacht.
It was young Billy's first great adventure - and a conversation with his mother Linda reveals adventure is in the Trubridge DNA.
In 1981, Linda, a teacher, and her husband David, a naval architect and furniture designer, were living on the moors of remote Northumberland, in a house they had rebuilt from a ruin.
Despite the snow that isolated them every winter, Linda had been determined the boys (Will and older brother Sam) would learn to swim from earliest infancy, which meant the not-so-nearby public swimming pool; two buses there, two buses back.
"We had a boat and we had been doing a bit of sailing in the North Sea," she says.
"The conditions are pretty scary up there; it wasn't that much fun - and our boat was worryingly basic. One day [David and I] said to one another 'well, if we're going to do this sort of thing, maybe we should do it properly'."
Properly meant in a decent vessel, living on the ocean - and it also meant selling everything they owned, including their precious handmade home, and setting out with no fixed destination in mind.
Once the thrilling, frightening idea was out there, the couple felt they had no choice but to seize it.
"I just saw a choice and I couldn't turn away," says Linda, who was already experienced in rock-climbing and kayaking, as was her husband.
"I knew it would be hard, but I also knew it was going to be vital for my spiritual growth."
Her philosophy on life, distilled by years of yoga practice, was that experiences must be fully embraced to be real.
"We could see another life, and that life was living in a greater dimension. For me, yoga is more than just a physical discipline; it's about living life as fully as you can."
As soon as they reached the warm waters of the Caribbean Sea, the Trubridges knew island life was for them.
They dropped anchor and spent two years in the Caribbean before sailing on to the Pacific and settling for another year in Tahiti, where David designed and made furniture and Linda taught.
They headed to New Zealand when the boat needed repairs, intending to stay only briefly before returning to Tahiti - but 20 years later, they're still here, living in Hawkes Bay.
Today, David is one of the country's most highly regarded designers, renowned for his sculptural furniture pieces, which incorporate sustainably grown wood and draw inspiration from Maori traditions.
Linda is a yoga instructor and sculptor, while Sam, now 30, is a theatre director.
"New Zealand has had a huge influence on all of us, especially the boys." she says.
"There's an enormous sense of possibility and empowerment here - whatever you want to do, you can manifest it. I felt that in Thatcher's Britain, people were more accepting; they didn't tend to feel they could change the world."
Today, Trubridge is earnest and thoughtful, tall and lean. He's sneezing and spluttering with a cold, and his face is pale - but that isn't just because he's afflicted with a lurgy.
Freediving has changed Trubridge's physique so dramatically he now has 20,000 fewer capillaries than an average marathon runner, he says.
That's because he has taught his muscles to operate without oxygen.
Trubridge does no cardio training, except when a sinus infection or other bug prevents him going into the water, in which case he will run while holding his breath for short intervals.
"Basically you need to be a cross between a triathlete and a sprinter," he says.
"Freediving strips your muscle, it makes your blood very acidic, and if you don't eat a pretty strict high-protein diet, it starts to cannibalise your muscle tissue."
Most of his training is underwater swimming while holding his breath and depth training, in which he descends to a comfortable level and relaxes.
"I love swimming down to 10 or 15 metres, where I'm negatively buoyant, and staying on the bottom, watching the little fish and finding little sand gardens.
"You get a feeling you don't ever have to breathe again, which lasts a few minutes."
Trubridge also does the same exercise at 50m depth, pulling himself down on a rope to save energy, and remaining down for up to five minutes.
"You get a complete sense of peace and quiet, being within yourself. In the last couple of minutes, there's more tension because of that hunger for air, but you need to be able to relax despite that. If you're able to relax, it takes you into almost a deeper sense of peace."
Trubridge first heard about freediving while on holiday in London in 2001.
Since those early years on the boat, he had been fascinated by water and would spend most of his time underwater - even when doing laps in a pool.
After leaving school he did a degree in genetics, but circumstance prevented him becoming a scientist; a friend who had been diving in Thailand had met some freedivers and raved to Trubridge about the sport.
Like most of us, he'd seen The Big Blue, Luc Besson's 1988 film about two rival freedivers - and the idea that this could be a real sport was fascinating.
He dived in Honduras and Belize, then went to Italy to take a course with Umberto Pelizzari, one of the world's best-known freedivers, at his Apnea Academy in Sardinia.
That's where he met Tiziana Valmaggia; she was the real estate agent who rented him a flat. As the romance developed, so did Trubridge's de facto apprenticeship with Pelizzari, 42, who is now retired from competitive diving.
The two men dived and spearfished together, and Trubridge's previously non-existent Italian language skills developed quickly - thanks to the need to impress Valmaggia - which helped with translations for the website and publications of Pelizzari's academy.
Their diving styles are now quite different, but Pelizzari has been invaluable in teaching mental discipline and the patience to reach one's goals steadily rather than all in a rush, Trubridge says.
"I'm starting to learn now that sometimes less training is more. The recovery is as important as the training itself because you can overstress yourself and you can sometimes start to go backwards because of that."
He attributes much of his mental resilience to the dedicated practice of yoga, in which he focuses on pranayama, an advanced yogic practice that involves holding and controlling one's breath in order to achieve total, meditative calm.
Freediving is still a fringe sport in New Zealand, although its many forms are gaining popularity.
All the styles involve holding the breath, but apart from that, nearly anything goes.
In September Wellington's Dave Mullins broke the world record for underwater breathhold swimming, known as dynamic apnea.
Mullins swam 244m in laps of a swimming pool, using a monofin, in 4:02 minutes. He also holds the New Zealand record for constant weight diving of 100m.
There's also a great tradition of rivalry in the sport; Umberto Pelizzari's records were driven by his contest with Cuban diver Francisco "Pipin" Ferreras.
Trubridge's nemesis - in a friendly way - is Herbert Nitsch, a 37-year-old Austrian who also happens to be an airline pilot.
He snatched Trubridge's constant weight (no fins) record last year by reaching 83m, and also holds the record for constant weight (with fins - 111m).
The training has left Trubridge far fitter than ever before - surpassing even his university days as a competitive rower - and he is expert in the physiological nature of what he does.
"Before I dive, I just try to relax my breathing to maintain a relatively high level of carbon dioxide, because that is what gives you the signal to breathe again. It also regulates your oxygen stores - so the more carbon dioxide you have, the better you conserve your oxygen for the brain and heart."
When a freediver descends, the body goes into a very clever state designed to protect us underwater, called the mammalian dive reflex.
That concentrates blood-flow to Trubridge's core, constricting the capillaries in his limbs and directing the blood to his vital organs.
Blood pressure falls, heart-rate drops to as low as 20 beats per minute, and lung capillaries swell up with blood to prevent his lungs from collapsing under the enormous pressure.
Having the right equipment also helps; Trubridge has worked with New Zealand wetsuit manufacturer Orca to find the ideal hydrodynamic - but still slimline - suit to help him slip through the water.
He is also hyper-aware of the science behind the danger.
Freediving deaths are not uncommon - often in "no limits" freediving, where divers use a sled-like device to descend to depths up to 214 metres, then rely on inflatable devices to bring them back to the surface.
In no-limits diving, equipment failure is fatal, for a human would be incapable of swimming unassisted back from such depth.
There is the possibility of narcosis, leading to unconsciousness.
"A lot of the deaths in freediving - and there are quite a lot - occur very close to the surface, when the diver runs out of air on the way back up and there's no one on the surface to help them.
"If someone pulls you to the surface after you've blacked out, you'll be fine - but if you're by yourself it's 100 per cent death."
That sort of sentence would send a shiver of fear through some girlfriends, but Tiziana Valmaggia merely shrugs in a very Italian way.
"I'm not worried about him," says Valmaggia, a tanned, compact woman with long sandy hair.
"I know he is serious about it. I only worry when he gets sick."
And he has been terribly sick - some of the worst episodes while competing in Egypt, another hotspot of freediving.
Trubridge now suspects the pesticides used near the Egyptian resort where he stayed in 2006 and 2007 were responsible - his blood pressure dropped and heart-rate accelerated, and he entirely lost his sense of taste.
"When I arrived at the hotel, I saw him but I couldn't recognise him; I thought 'this is craziness'," Valmaggia says.
Linda Trubridge has spent a lot of time conquering fears about her son's freediving, studying the sport from a yogic perspective, and coming to the view it is the ultimate in self-control and meditative strength.
"He's actually being incredibly responsible with his life, because he goes to the extreme with it," she says.
"This will sound strange coming from his mother, because all mothers love their sons, but I so respect Billy for who he is."
She relates how, on a recent dive through the underwater archway in the Blue Hole in Dahab, Egypt, Trubridge told his support crew not to come to his rescue if he hit his head and started falling through the water, unconscious.
He told them they would be unable to catch him without endangering their own lives.
"He needs to be incredibly brave to do this," Linda says.
So where is the line between courage and recklessness? Does Trubridge think he will die one day, doing this?
After our interview, I'm still troubled by whether Trubridge is somehow expecting death; inviting it. I email to ask him to explain his feelings about, as he describes it, journeying into the underworld.
The answer is, essentially, that he doesn't actually want to die - but he gets an enormous rush out of taunting death.
For him, that is the best kind of life; where, every day, one explores the essence of what it means to live, to take air into one's lungs and breathe it out again. For Trubridge, getting to the edge makes him more alive.
"During the descent I have to be completely at peace with the idea that what I will do will kill me if I only do it long enough. [In the descent] if I do nothing, and continue falling, then I die. Instead I have to judge it exactly right so that when I turn around my desire to live matches precisely the extent to which I have dared to kill myself.
"This is an attraction of freediving: the thrill of how far do you dare venture across the border between life and death, and has similarities I guess to Orpheus' journey into Hades - if you 'look back' or show any kind of fear then that will ultimately betray you.
"Freedivers do die, but just like in other sports like mountain climbing the rest of us still return to dance along that thin line, and in so doing taste our own existence."
Copyright ©2013, APN Holdings NZ Limited