Rain fails to dampen Dunedin's fashion parade (+photos)
9:19 AM Monday Mar 3, 2008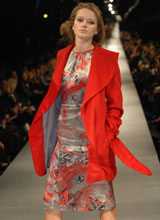 A model displays a creation by Keucke. Photo / Supplied
It may actually have been the longest runway ever seen in New Zealand and quite possibly the longest fashion show too.
With the runway measuring the length of Dunedin's railway station and a show clocking in at around three hours, including an intermission of twenty minutes, the finale of Dunedin's week of fashion and fashionable events was what you might call lengthy.
But maybe this isn't surprising. As the last fling on a five day calendar, which has included shop openings, library tours, jewellery breakfasts and other civic displays of style, the ninth annual Southern Trust iD Dunedin fashion show had to include offerings by a wide variety of the labels that operate out of this southern city.
Basically it was a bit like a miniature version of Air New Zealand Fashion Week, held every year up in Auckland, all squeezed into one fashion parade.
And just like New Zealand Fashion Week - and indeed, every other fashion week around the world - it's not all radical, but nor is it all boring.
In Dunedin this weekend there were all sorts of outfits to see, everything from mainstream outfits your Mum might not mind to high fashion every urban hipster would love, to wildly creative outfits dreamt up by local design students, that wouldn't look out of place in an art gallery.
Usually during a fashion week all these disparate varieties of frock come in separate showcases - in Dunedin's case, 25 labels all arrived within three hours on the last night of the town's fashion week.
The other thing to note about the iD Dunedin fashion finale is that, apart from the student segments, it is mainly a retail showcase.
That is, the labels are displaying winter clothes to a very receptive local audience - there were about 1500 watching as tickets to the event had sold out within days of them going on sale - just as the winter clothes are going onto shelves.
So it's not really the kind of show that fashion editors get to criticise or retailers get to consider buying from, it's more meant for the average person on the South Island street so they can see what they might like to buy over the next few months - and it's also a celebration of local style and a bit of a party, a reason to dress up and a bit of entertainment on a Saturday night down south.
Speaking of which, the venue was definitely entertaining.
The main runway stretched the length of Dunedin's historic railway station and had fairy lights charmingly strung above.
Open-sided railway carriages were lined up along one side of the station; they had rows of chairs in them and made for extra, elevated seating.
Unfortunately at times during the night the weather was just a tad inclement. So while the champagne was poured before the show, during the show the rain poured down and in, between the wagons and the station roof.
Most viewers managed to stay dry but rumour has it that both fashion stars and Dunedin city councillors alike were mopping up puddles behind the scenes in order for the show to go on.
Still, if you were sitting in the audience, dressed in your best Dunedin high fashion - any colour as long as it's black! - you would never have known.
Although the downpour might have dampened some spirits, ruined a few shoes, made things a bit tricky backstage and got people heading home rather than out to a bar afterwards, in general, the night can be considered a success for the Dunedin organisers.
And as for the question that dedicated followers of local fashion labels are probably asking: were there any exciting new clothes from what's generally considered the South Island's centre of cool that the rest of the country should know about?
To be honest, probably not a lot you could get on your hands on - at least yet.
After all you know about the pros from Dunedin already: Carlson's incredible tailoring, NOM*D's creative layering and Cherry Cotton Candy's cute, colourful streetwear among others. These guys all have a big national presence.
Apart from that it may also be worth noting that Dunedin streetwear label, Aduki, hopes to open a shop in the big smoke in the near future and that's one that fans of labels like Huffer, Ruby and Workshop Denim might like to check out.
Otherwise, you might have to wait until the promising design students with interesting work have something to sell you.
The Rundown
NOM*D - This has been seen before in Auckland at New Zealand Fashion Week late last year but seeing it in Dunedin, and closer up, just reconfirms how beautiful a bit of grungy layering, done the way NOM*D do it so well, can look. Stand out silhouettes were the silvery layers and the vintage prints in deep blue and black, both magnified and shrunk, on various garments.
Charmaine Reveley - Delightful miniature horsey prints on leggings and silk dresses plus simple cotton dresses with a difference. Commercial look but with smart differences and good cuts.
Capsule Collection 1: Cirrus draped jersey pleasantly, Elusiv's menswear looked well-made and wearable and Aionias made fine cotton garments with flattering, corset-style insets.
Cherry Cotton Candy - Quilted hotpants, rainbow stripes and shiny shorts swinging along to a spot of raga music were fresh and tomboyish fun on a dark and rainy night.
Otago Polytech Section - Sharn Blackwell, Sam Mitchell and James Currie were finalists in the Emerging Designers award the previous night and we can only wait with baited breath to see what these guys do next.
In between arty madness by the latter three, there was Sonia Hegan, with a delightfully girlish range with gold accents and Erin Wesley, with acid washed tights and flashes of fluoro and plastic most grown-ups could actually wear too.
Ng - Beautifully tailored clothes with an Asian feel by Sharon Ng and just enough-but-not-too-much experimentation for the ladies that lunch.
Hailwood - Auckland local, Adrian Hailwood, was a guest designer at this show and one of the judges of the Emerging Designer's Award. His collection had already been shown at New Zealand Fashion Week but close up and capsule sized, it looked even better, glamorous, sexy, cool and comprehensive.
Mild Red - A longtime local knitwear label that started out looking like they were following closely in NOM*D's footsteps but now seem to have decided to cater to an older audience. They're doing deconstructed knitwear - panels of knit fabric wrapped and swathed and mostly knee length - for an older audience.
Love-Lies-Bleeding - T shirt dresses, light blue denim on denim combos and tie dyed hoodies, this relatively young label by former Otago design students, showed more promise and, like a lot of folks their generation, it also showed their liking of 80s and maybe even early 90s references.
Capsule Collection 2: Burtenshaw does wool tailored into minimal and wearable shapes, Tamsin Cooper (probably best known for her legal battle over naming rights with the better known Trelise Cooper) flashed her lush velvet coats and matching, embroidered accessories while Joan Leach was into wearable outfits for ladies.
Aduki - Very well made casual wear for both men and women that straddles a line between street and smart. Fine wools, flashes of silver and prints that takes from current trends all add up to a label that's eminently wearable but often with an interesting twist.
Keucke - Pretty dresses combining nice experiments in pattern cutting and made in artistic paint splatter and brush stroke prints on satin.
Carlson - Clothes by one of the main advocates of the whole event probably deserved applause simply because the designer herself was backstage mopping up puddles!
This collection has also been seen before but sitting this close, one could appreciate the intricate pattern cutting that makes these clothes sit so perfectly, apparently effortlessly.
Must have: a quilted puffer-style, cropped jacket or one of the bronze lace dresses that make for a clever new shape which combines a pinafore and halterneck look. Go the hometown girl, soon to become an Auckland local!
Copyright ©2016, NZME. Publishing Limited