Heidi Klum invites Britney into her home
10:00 AM Monday Feb 18, 2008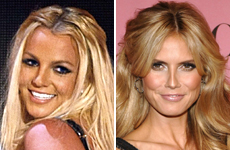 Britney Spears and Heidi Klum. Photos / Reuters
Supermodel Heidi Klum has invited troubled pop singer Britney Spears to come and live with her.
Project Runway star Klum, 34, thinks her home would be a good environment for Spears, 26, to recover from an erratic few months during which she lost custody of her children and was admitted to a psychiatric ward.
"She can call me and come live in our house with us for a couple of months," said Klum, according to a transcript of a German interview obtained by Associated Press.
"I am sorry when a young person gets thrown so off track," Klum said. "She has, of course, lived an extremely wild life."
Meanwhile, in stark contrast to the wild weekend a year ago when she shaved her head and attacked paparazzi photographers with an umbrella, Spears spent a relatively quiet weekend.
The singer was spotted shopping at several stores in West Hollywood including Monique Lhuillier, the designer who made Spears's wedding dresses.
On Saturday night, Spears joined her father who currently has co-conservatorship over the singers affairs for a quiet dinner at Citrus at Social Hollywood, on Sunset Boulevard.
According to People magazine, Britney and her father joined a small group of people dining at the restaurant and 'seemed totally normal and level-headed'.
- NZHERALD STAFF
Copyright ©2016, NZME. Publishing Limited