Cricket: England wrap up Twenty20 series (+photos)
By Chris Barclay
10:03 PM Thursday Feb 7, 2008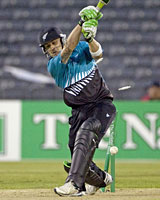 New Zealand's wicketkeeper Brendon McCullum is bowled during the second Twenty20 game against England in Christchurch. Photo / Reuters
England chipped away at New Zealand's fragile confidence at AMI Stadium in Christchurch tonight to leave the hosts with a major rebuilding assignment before the one-day cricket series starts in Wellington on Saturday.
England's 50-run victory in the second Twenty20 international provided compelling evidence the momentum has definitely swung since the teams met at last year's World Cup.
By backing up from their 32-run win in Auckland on Tuesday in equally impressive style, England have built a handy psychological advantage heading into the five-match one-day series and the three tests which follow.
New Zealand were limited to 143 for eight from their 20 overs, never threatening England's 193 for eight after captain Paul Collingwood guided the tourists to safety after they had lost four for 11 in just 15 balls.
England appeared shaky at 76 for four in the ninth over but Collingwood and Owais Shah pulled England shared a 102-run stand for the fifth wicket off 62 balls.
Collingwood struck five boundaries and three sixes in his 54 off 28 deliveries while Shah made 47 off 35 as the advantage secured by teenage Tim Southee's double breakthrough was gradually reduced to nought.
Southee, 19, was an obvious standout among his outplayed teammates, with an eye-catching return of two for 22 off four overs.
The Northern Districts rookie faced difficult circumstances when he was summoned to the crease but responded with maturity, rarely deviating from a perfect length until his final over cost 12 runs.
SCOREBOARD
England
L Wright b Martin 30
P Mustard c Mills b Southee 40
K Pietersen lbw b Southee 3
I Bell run out 1
P Collingwood c How b Hitchcock 54
O Shah c Taylor b Hitchcock 47
D Mascarenhas run out 11
G Swann not out 3
S Broad c Ryder b Mills 0
Extras (3w, 1lb) 4
Total (for 8 wkts, 20 overs) 193
Fall: 65, 70, 71, 76, 178, 178, 193
Bowling: K Mills 4-0-35-1 (1w), C Martin 4-0-45-1 (1w), P Hitchcock 3-0-43-2 (1w), T Southee 4-0-22-2, S Styris 3-0-25-0, J Ryder 2-0-22-0.
New Zealand
J Ryder c Shah b Anderson 12
B McCullum b Sidebottom 5
R Taylor c Bell b Broad 21
J How b Mascarenhas 31
S Styris c Sidebottom b Mascarenhas 13
P Fulton c Anderson b Swann 2
D Flynn c Wright b Swann 1
K Mills not out 30
P Hitchcock b Sidebottom 13
T Southee not out 12
Extras (2lb, 1nb) 3
Total (for 8 wkts, 20 overs) 143
Fall: 14, 19, 42, 72, 79, 86, 94, 122.
Bowling: J Anderson 4-0-36-1, R Sidebottom 4-0-19-2, S Broad 4-0-31-1 (1nb), D Mascarenhas 4-0-25-2, G Swann 4-0-30-2.
Result: England won by 50 runs, won series 2-0.
- NZPA
By Chris Barclay
Copyright ©2016, NZME. Publishing Limited