Eco-blog takes spot in global limelight
5:00 AM Thursday Jan 31, 2008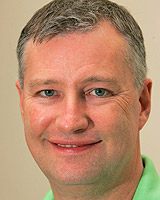 Nick Lewis. Photo / Mark Mitchell
It takes a much sought-after invitation and $20,000 to secure six minutes of fame presenting at Demo, the US conference showcasing the cream of the new technology start-up crop.
For Wellington-based climate change awareness website Celsias.com, the short stint in the spotlight at the conference being held this week near Palm Springs, California, is a golden opportunity to properly launch itself on the world stage and pitch for US venture capital funding.
But as Celsias chief executive Nick Lewis explains, the real networking and deal-making takes place on the periphery of the conference - in hotel lobbies and around buffet tables.
"You wouldn't believe it. The event hasn't started yet and I have the business cards of five people who want to have conversations or quietly talk financials," he told the Business Herald ahead of his presentation to Demo yesterday.
Celsias, the brainchild of a group of eco-conscious New Zealand entrepreneurs, has won worldwide interest as a blog presenting informed news and opinion from 45 writers and contributors about climate change and strategies to limit its global impact.
The blog has climbed into the top 5000 of 55 million measured by the website Technorati.com, and Celsias.com racked up 250,000 visits last month.
Lewis said the website is tapping into the so-called LOHAS (lifestyles of health and sustainability) community and is appealing to companies that want advice on how to run corporate responsibility programmes.
"We want to make it very easy for companies to load up their corporate responsibility projects," Lewis said.
While the blog taps into a market of green-minded readers, a new part of the website called Celsias Projects is also acting as a base for people who want to take proactive steps to fight climate change. Around 70 projects are currently listed on Celsias, ranging from one-person efforts to raise awareness of climate change to sophisticated sustainability schemes.
There's Windustrious Cleveland, a project that's aimed at establishing the world's first fresh-water wind farm in Lake Erie.
Wairarapa Off Grid follows a New Zealand couple insulating a typical draughty villa to European standards, and taking it off the water and electricity grids. They will also grow vegetables in the garden and raise farm animals.
"We don't prescribe the direction Celsias goes in or the content," said Lewis, who is impressed at the variety of initiatives the Celsias user base has come up with.
Lewis hopes to generate revenue by charging companies fees to use the website's tools to develop their own sustainability programmes.
"For US$29 ($37) per project per month, we'll make all the functionality that is available for free, but we'll also provide confidentiality," he said. "If you only want your 25 employees to see it, you can draw on the ideas on the public side but do it privately among yourselves. Draw on the rich content that's coming from the users and apply it to your own business."
Website advertising is another revenue model Celsias has pursued, though Lewis said results hadn't been spectacular. More promising, he said, was the idea of Celsias becoming a marketplace for listing green products and services.
"You could go to eBay but everyone and their dog is there.
"There was no pre-qualified market place for this kind of stuff," said Lewis, a Canadian who studied nuclear engineering, and psychology and geophysics before serving in the Peace Corp in the Middle East and spending a decade as a Wall Street investment banker.
He came to New Zealand in 2004 to join electricity metering developer Energy Intellect.
He said 75 per cent of visitors to Celsias.com came from North America, which is where the company was aiming to gain funding for further expansion.
Celsias' founders include Derek Elley, who is behind another New Zealand web venture attracting attention in Silicon Valley, Ponoko.com.
Celsias joins energy efficient power adaptor maker GreenPlug in the new green category at Demo, so has a promising new field of interest almost to itself.
"It's a very collegiate atmosphere," said Lewis of the Demo crowd.
"They don't feel threatened. They're willing to share ideas. And we are tapping into two important trends - Web 2.0 and climate change."
HEATING UP
* Wellington-based climate change awareness website Celsias.com is getting international attention
* It offers a blog of informed news and opinion about climate change, and lists projects being undertaken to fight it
* Celsias.com racked up 250,000 visits last month
* The site is looking at becoming a marketplace for listing green products and services
Copyright ©2016, NZME. Publishing Limited