Christchurch airport world's second to go carbon neutral
2:03 PM Thursday Jan 24, 2008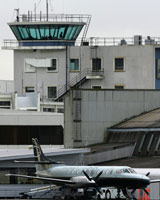 Christchurch Airport. Photo / Simon Baker
Christchurch International Airport has gone carbon neutral, making it the second airport company in the world to do so, after Sweden's LFV.
Chief executive Rene Bakx today announced that after much measuring, managing, mitigating and reducing, the airport had received its carboNZero certificate from Landcare Research.
To get certified a business must measure its emissions, develop a plan to reduce them and purchase carbon credits to offset any remaining emissions.
To remain certified it then faces annual reviews to ensure the plan is being followed.
As emissions go down, the number of carbon credits required also subsides - creating an incentive for business to push for efficiency.
Mr Bakx said there were a number of ways to immediately curb the airport's environmental impact.
"We are using a building management system to maximise our energy efficiency, and energy, electricity is by far the biggest contributor to our carbon foot print from this site .
"We've got waste recycling programmes. We are recycling former road materials in the runway maintenance programmes. We are investing in specific grass species that don't require us to spray and don't grow as fast as other grasses."
Other initiatives include using ground water to cool the terminal and converting heating systems from diesel to LPG.
Prime Minister Helen Clark congratulated the airport as tourists, who contribute 10 per cent of New Zealand's GDP, are making travel decisions based increasingly on how environmentally friendly their destinations are.
"For many of them we are a long haul destination. We don't want to be ruled out of consideration because it is seen as unsustainable to be here," Miss Clark said.
- NZPA
Copyright ©2015, NZME. Publishing Limited