'Sir Ed first' on Everest, says Mallory's grandson
5:00 AM Sunday Jan 13, 2008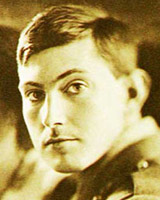 British explorer George Mallory.
The grandson of Everest climber George Mallory has ended speculation over who was first to reach the summit of the world's tallest mountain by affirming Sir Edmund Hillary's ascent.
Melbourne-based George Mallory II told the Herald on Sunday, "As far as I'm concerned, he [Hillary] made the first ascent of Everest, in the Hunt team."
Mallory disappeared high on the north-east ridge of Mt Everest in June 1924, and was last sighted a few hundred metres from the summit.
Speculation has endured ever since that he successfully completed the ascent.
In the mid-1980s, Sir Ed said proof of Mallory having made the ascent first would have "downgraded" his and Norgay's achievement of being the first to have made the ascent and returned.
He asked, "If you climb a mountain for the first time and die on the descent, is it really a complete first ascent of the mountain?
"I'm rather inclined to think, personally, that maybe it's quite important, the getting down."
George Mallory II, who climbed Everest in 1995, said he agreed with Sir Ed's assessment.
"I agree with Hillary. You have to get down from the top. You do have to get down the mountain."
Double-amputee Everest climber Mark Inglis said Sir Ed would remain a presence in the lives of all New Zealanders.
In 2006, Sir Ed criticised mountaineers who climbed Everest on the same day as Inglis, for reportedly passing a dying climber near the summit without trying to rescue him. Inglis said the controversy had not soured his relationship with Sir Ed.
Copyright ©2015, NZME. Publishing Limited