Motocross: NZ olympic medal hope stunned by coach's defection
By Mark Geenty
7:00 AM Thursday Jan 10, 2008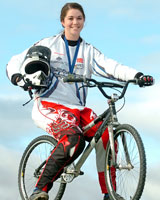 Sarah Walker. Photo / Daily Post
Leading medal hope Sarah Walker's Beijing Olympic preparations have been thrown into chaos after her coach quit the New Zealand BMX team to coach one of her main rivals.
Australian Grant White, coach of the New Zealand BMX cycling team for the past three years, quit abruptly last month after a major falling out with leading male rider Marc Willers, it is understood.
White confirmed this week he had accepted an offer to coach the Great Britain team which includes Walker's main obstacle for the gold medal, Shanaze Reade.
"It was a huge shock to me, I didn't see it coming at all," Walker told NZPA from the national squad's training base in Newcastle today.
"That's what frustrated me the most, he'd coached me since I was 16 and we're eight months out from the biggest race of my life.
"It's unbelievable, just like a kick while you're down."
Walker, 19, from Kawerau in the Bay of Plenty, is among the world's top women riders as BMX makes its first appearance on the Games cycling programme in August.
She won the world cruiser class title in Canada last July and was recently confirmed as one of four finalists for sports woman of the year at next month's Halberg Awards.
Now she remains in limbo as BikeNZ sifts through applications from New Zealand and overseas for White's replacement. Her mother Sue is currently managing the six-strong New Zealand team.
Walker's requests to White to continue writing her training programme this month were declined, with White saying it was a conflict of interest with his new role which starts at the end of this month.
"I moved over here (to Newcastle) to train with him two years ago, Ieft all my family and friends behind in New Zealand," she said.
"He was basically like a second dad to me in my teenage years. It's a cruel way to end."
Walker said it was too early to tell how much it would impact on her Olympic bid, but she admitted her chances of beating Reade had taken a hit.
"Hopefully it hasn't cost me too much. I just want to give it everything over the next eight months.
"I'm still confident I can finish on the podium but this has given me a bit of doubt.
"He's a really good coach so I guess Shanaze is going to get better, too. "
Reade, also a top track cyclist, beat Walker into second in the elite Olympic class in Canada last July.
Still coming to terms with the drama, Walker finished second overall in wet, muddy conditions at last weekend's fifth round of the International Cycling Union (UCI) series on the Gold Coast.
She won the previous four rounds, and can seal her Olympic place with victory in the next two rounds in Melbourne on January 19 and Auckland on February 16-17.
White was reluctant to comment on the reasons for his departure, but confirmed there was a falling out with an unnamed member of the team.
"It wasn't easy at all but it was a decision for me personally," he said.
"Sarah's obviously disappointed and I didn't want to be nasty to her. If this motivates her a little bit then that's great.
"I hope she wins gold at Beijing, I really do."
- NZPA
By Mark Geenty
Copyright ©2015, NZME. Publishing Limited