David Gest in hospital
5:00 AM Friday Dec 21, 2007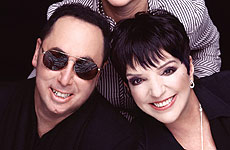 David Gest (left) and Liza Minnelli.
David Gest, former husband of actress Liza Minnelli, has been admitted to hospital with severe chest pains.
The 54-year-old American was taken to a London hospital after complaining of breathing problems.
A spokesman said his condition was stable but there were no more details.
Copyright ©2015, NZME. Publishing Limited