Ditching the phone line will cost telcos more
5:00 AM Friday Dec 14, 2007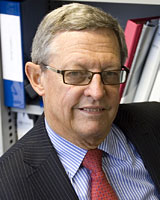 Telecommunications Commissioner Ross Patterson. Photo / Mark Mitchell
Telcos seeking to take a bite out of Telecom's broadband and voice market were given the final pricing for wholesale broadband yesterday.
Exactly 12 months after the Telecommunications Amendment Act introduced wide-ranging reforms into the telco sector, the Commerce Commission has set the wholesale price for broadband - known as unbundled bitstream access or UBA.
Prices to be paid by internet and phone companies using Telecom's broadband service will range from $27 to $48, depending on the quality of service, where customers retain their landline.
When the traditional phone line is ditched in favour of broadband only - naked DSL - with phone calls made over the broadband network, prices range from $47.28 for urban users up to $84.62 for rural users to have the best available connection.
In addition to a basic wholesale service, prices for three levels of "enhanced" service were released allowing high quality voice over IP for residential and small business users.
Prices for naked DSL were around $1 to $3 up on the draft pricing released at the end of August and, similar to the final pricing for local loop unbundling, were affected by the benchmarking process.
WorldxChange director Cecil Alexander said the pricing for bitstream access where a phone line was retained was "attractive", but he was disappointed in the price rise for naked DSL.
"If it was cheaper, I guess it could be passed on cheaper to the consumer," said Alexander.
"WorldxChange had planned on passing any reductions on to the customer but unfortunately I'm not going to increase my forecasted price so we'll wear that."
Telecom Wholesale spokesperson Melanie Marshall said the pricing was largely in line with the draft released three months ago.
"There has been movement, but it's not major movement," said Marshall.
She said the implementation plan set out in the determination that was of key interest to Telecom.
"The timelines set out in the determination are quite challenging, particularly the enhanced UBA products," said Marshall. "But we are committed to getting these products out to market as quickly as possible." The basic bitstream service would be available in early July with the enhanced versions rolled out from September until the end of the year.
TelstraClear's Wendy Dodd said the pricing was the final piece of information needed to start making decisions about whether to "build or buy".
"This is an important piece to weigh up so we make the right choice," she said.
Dodd said TelstraClear was pleased to see the introduction of a new, high-quality broadband variant suitable for services to the small business market.
"The real benefit of naked DSL is if you can offer quality voice," said Dodd.
"I don't think people want a replacement for their PSTN (public switched telephone network) if it's not a quality voice service."
WorldxChange has been testing a naked DSL service on nearly 100 staff, friends and industry pundits which they will release to the wider public in the next couple of weeks under a commercial deal with Telecom Wholesale.
Alexander said the company had some new "gee whiz" services it would be launching over the next year.
Telecommunications Commissioner Ross Patterson said the co-operation of the telecoms industry had been essential in completing the pricing of the broadband and unbundled local loop services.
He said the first cab off the rank next year would be the investigation of sub-loop unbundling - opening up access to Telecom's roadside cabinets.
Urban and rural
* Wholesale broadband prices for customers retaining their landline will range from $27.44 for the basic service to $47.99 for the highest quality connection.
* Prices for urban customers ditching their phone line range from $47.28 to $67.83.
* Wholesale prices for rural users accessing the same service will range from $64.07 to $84.62.
Copyright ©2016, NZME. Publishing Limited