Netball: George opening Mystics' gambit
By Dana Johannsen
5:00 AM Friday Dec 14, 2007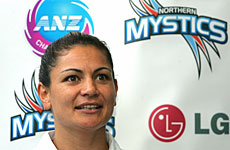 Temepara George plans to divide her time during the netball season between Auckland and Townsville. Photo / Brett Phibbs
So far, Yvonne Willering's Northern Mystics team has a cast of one for next year's new transtasman netball league.
But if you could have just one player, midcourt maestro Temepara George would be near the top of any coach's list both here and across the ditch.
The Auckland-based franchise yesterday confirmed George had signalled her intent to play for the Mystics in the inaugural competition.
The Mystics have their fingers crossed they can officially sign the 32-year-old early next week, which is when they have been assured the wrangle between the players association and Netball New Zealand will be resolved.
Huge interest has surrounded where George would be playing next season, if at all.
After moving to Townsville in August to be with her partner, league star Sione Faumuina, and making herself unavailable for the Silver Ferns World Championship campaign, it was thought George might be lost to New Zealand netball.
But George's desire to play at "home" combined with a fair bit of badgering from Willering convinced the athletic midcourter to return.
"I was really interested in the transtasman competition and New Zealand is my home so I didn't really fancy playing for an Australian team,"said George, who is still a member of the Silver Ferns squad.
"I wanted to come back and play here."
George has played under Willering at the Force for several seasons and they have a lot to do with each other off the court. They have had regular communication since George moved to Australia and Willering admits the star centre was one of the first people she called when she found she would be taking the helm of the Mystics.
"Besides just being a quality skilled player she does get the best out of those around her, so yeah, certainly she was one of the key players."
But George also had to survey her options in Australia and was already in talks with Vicki Wilson's Queensland Firebirds side.
She said Willering worked hard to convince her the franchise could accommodate her family arrangements.
"We kind of keep in contact anyway in terms of other things but she slipped it in every time she spoke to me and I was going 'yeah, yeah, yeah, give me another month'."
Willering's response when the star centre finally agreed to play for the franchise was typically no-nonsense.
"She was excited but she had to add 'you better not bloody change your mind on me, because we have nothing for you to sign just yet'," George recalled with a laugh.
"But I gave her my word."
It is going to take a fair bit of flexibility from Willering and the Mystics franchise though.
George will be based in Townsville for most of the pre-season but plans to move back to Auckland in April, when the competition begins. Over the season she will share her time between Auckland and Townsville.
Willering is confident the arrangement will work.
"It isn't just about the netball, it's all about her lifestyle at the moment."
By Dana Johannsen
Copyright ©2016, NZME. Publishing Limited