Australia short of water to turn into wine
By Keith Stewart
5:00 AM Monday Dec 3, 2007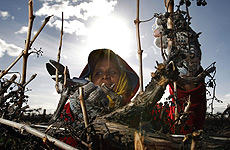 Water shortages mean some growers have taken the chainsaw to 30 per cent of their vines. Photo / Reuters
Last week, the Australian Wine and Brandy Corporation issued its estimate for the 2008 vintage, a figure that is shocking to anyone with any understanding of the dynamics of wine production. The second small vintage in a row may signify the beginning of the end of the Australian wine industry in its present form.
The council is predicting 1.3 million tonnes of wine grapes at best, the same volume as the last vintage, which was 32 per cent below the five-year average. At worst, it estimates the crop will be as little as 800,000 tonnes. Australian winegrowers spoken to by the Herald are sceptical about reaching even that figure.
As one grower in Wentworth, New South Wales, said: "We have only 50 per cent of our water allocation, so we have to decide what we are going to kill to survive. Some growers have already chainsawed 30 per cent of their vines. What is left will produce less."
In South Australia, allocations of water from the Murray River are down to 13 per cent and across the whole Murray-Darling Basin, the world's fourth longest river system, water reserves are at 20 per cent of capacity. The long-term average for reserves is 66 per cent, showing the extent and intensity of climate change in the basin. Many scientists believe the change is effectively permanent.
Exacerbating the problem is the spiralling cost of water in the region. Last year, water cost under A$100 ($115) a megalitre; this year it has already topped A$1000 and is expected to rise further.
Recent low grape prices have put growers in a situation where they simply cannot afford to buy water, or even to borrow capital to continue. For many this will be the year when they simply walk off their land.
Wine Grape Growers Australia (WGGA) claimed this month that as many as 1000 of Australia's 7500 winegrowers were likely to quit the industry in the short term.
"We think some 800 growers are in immediate financial peril, with up to 1000 at risk over time. They are broke. We couldn't possibly underestimate the impact and the reality is, they are leaving already," says WGGA executive director Mark McKenzie.
The problem for the Australian wine industry is enormous. Almost 70 per cent of Australia's wine is grown in the irrigated Murray-Darling region of New South Wales, Victoria and South Australia, providing cheap raw materials that allow Australia's industrial wine producers to trade at low prices in their export markets.
Most international wine markets equate Australia with cheap wine but, without the inland vineyards turning Murray River water into cheap grapes, winemakers are faced with either raising prices or sourcing their grapes from elsewhere. Already, some of Australia's largest brands such as Lindemans are getting fruit from South America; the latest official statistics show wine imports from Chile into Australia are up by 121 per cent to 1.5 million litres.
So the days of cheap shiraz around the barbecue could be numbered, even in Australia, where the fashion is for a cold bottle or three of New Zealand sauvignon blanc. Indeed, thirsty Australians are fast becoming one of the most lucrative markets for New Zealand wine producers. Exports to Australia are up by 40 per cent in the past 12 months and New Zealand supplies more than half of Australia's imported wine.
In April, Prime Minister John Howard said the only thing farmers in central Australia could do was pray for rain to save them. Not only has Howard lost his job, the rain never came. For the five months from June to October 2007, says the Australian Bureau of Meteorology, "an area of serious to severe rainfall deficiencies covered most of SA, southwest Queensland, western NSW, northern Victoria, regions in the southern NT, scattered parts of WA and an area in northeastern Tasmania. Large areas of lowest on record covered South Australia and southwestern Queensland into southeastern NT."
Professor Peter Cullen, of the Australian National Water Commission, said on ABC TV in April: "It seems to me we're going into quite uncertain times. I believe that there is a climate shift occurring."
Part of the solution, he believes, is the elimination of totally irrigation-dependent crops such as grapes from the Murray-Darling basin.
Does that mean goodbye to Australian wine as we know it?
* Keith Stewart is a freelance writer with 38 years' experience of the local wine industry
By Keith Stewart
Copyright ©2016, NZME. Publishing Limited