Beckham keen to face All Blacks haka (+ audio, photos)
5:04 PM Thursday Nov 29, 2007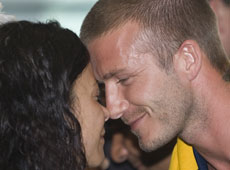 David Beckham was 'honoured' by his welcome into New Zealand but may not play the full match on Saturday night. Photo / Mark Mitchell
David Beckham would love to face an All Blacks haka, he said this afternoon.

In his first official comments since his arrival, the soccer superstar said the powhiri his LA Galaxy team received at Wellington airport was "honouring".

"It is something that no player, and no person, would miss," he said.

He acknowledged that New Zealand was a rugby country and said he had watched the national side do the haka many times on TV.

He added: "I would love to stand in front of the All Blacks and see them do it."

He hoped to convert the country to soccer for a day, though at this afternoon's press conference it was revealed Beckham may not play the full 90 minutes against the Wellington Phoenix on Saturday night.

His LA Galaxy coach Ruud Gullit said he would let Beckham decide if he was fit enough to play the whole game or if he needed to come off early.

Beckham is contracted to play at least 55 minutes of the game, though Phoenix owner Terry Serepisos told nzherald.co.nz that the club would not enforce the letter of the contract.

"We are flexible on that," he said.

Beckham himself told a news conference in Wellington that he hoped to play the full match, "but we will have to wait and see".

Gullit said he didn't know if his star player would make it to the final whistle as he had also been doing promotional work in Australia and New Zealand and that he might indicate his "battery is gone".

"If he gives me a sign that it is enough, I will take him off," Gullit said.

Phoenix coach Ricki Herbert said it was a privilege to have Beckham and the Galaxy team in the country, while his captain Ross Aloisi said the scale of media interest in this afternoon's press conference had shocked him.

"I don't think the players realise what is going on," he said. "I didn't realise until I walked in the room.

"I am more nervous sitting here than I am before a game."
Copyright ©2016, NZME. Publishing Limited