Interview with developer of Mass Effect, Xbox's next big game
11:35 AM Monday Nov 19, 2007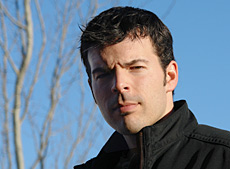 Casey Hudson
Expectations are huge for the long-awaited sci-fi role playing game Mass Effect, being released as an Xbox 360 exclusive at the end of this week.
The early reviews in the US give it a massive 97 per cent - one gives it 100 per cent!
I interviewed the games project director Casey Hudson for an exclusive preview of what we can expect.
Casey Hudson has been a game developer at BioWare for over 8 years, contributing to titles ranging from the Baldur's Gate series through to his current project, Mass Effect. After graduating with a degree in mechanical engineering from the University of Alberta, Casey joined BioWare in 1998 as a technical artist on the PC role-playing game Neverwinter Nights. There, he created character art and developed early prototypes for the game. On the Dreamcast / PC / PS2 action game MDK2, Casey worked as a level designer and took on further technical art challenges. In 2000, Casey took on the role of Project Director for Star Wars: Knights of the Old Republic - an Xbox / PC role-playing game that received both critical and commercial success, earning over 40 "Game of the Year" awards.
Casey, Thanks for your time. This certainly looks like a massive game. Tell us about what the title represents and how scientific and technological concepts inspired your approach.
The title really has two meanings. First, it represents your character's influential position in the galaxy, and your ability to make a major impact through your decisions. Second, it's the popular term in the Mass Effect universe for what's known as dark matter in present-day science. Mass Effect fields power the interstellar drives that propel starships in the game, and special implants give certain "adept" characters the ability to sense and control gravity-like effects.
How long have you been working on it?
We've been working on Mass Effect for about 3.5 years.
We're starting to see some amazing games on 360 using the next-gen graphics and other possibilities. How did you find the challenge of pushing these boundaries?
I'm reminded of the famous phrase, "it was the best of times, it was the worst of times." We finally had the graphical power to do things that we had been looking forward to for years, such as extremely realistic lighting and self-shadowing that allows us to light characters as though they were real actors on a set. We had the ability to create materials that were never before possible, and could use real-time physics to create vehicular gameplay as well as powerful and chaotic effects during combat.
But at the same time, these opportunities made every aspect of development an order of magnitude more difficult. Character models had to be detailed down to individual wrinkles; combat animations required an incredibly complex blending system to create smooth transitions between motion-captured movements... The quality bar was incredibly high, and much of our work went into fine details that we didn't have to worry about in previous generations.
I gather it's a huge storyline with lots of subplots. How does the team keep track of everything in the story and the locations and will we get overwhelmed by it all?
It is a big story thematically, but it's designed to be a fun and immersive experience for players so it shouldn't be overwhelming at all. Much of the scope of the game actually went into creating all of the different responses and outcomes for how you choose to play it. So from the player's perspective, it's a tight and compelling story experience, since you're only seeing your own unique path through large amount of content.
Who is Commander Shepard and how much control does the player have over what happens to him and in developing other characters in the game?
Commander Shepard is a veteran of the Human Alliance - a top military officer, known for being able to get the job done whatever the circumstances. Beyond that, Shepard's identity and personality are up to you. In creating your own character, you'll be able to determine whether Shepard is male or female, and you'll decide on a first name. You can shape every detail of your face, and by making choices about your backstory, you'll determine precisely how your reputation precedes you. You'll also be able to determine your military specialization, and what kinds of special abilities you'll have both in and out of combat.
Over the course of the game, each situation that you face will provide an opportunity to shape the storyline, and your decisions will accumulate to determine the fate of the galaxy. In many cases, you'll make decisions that affect whether certain characters live or die, as you weigh the difficult costs of each choice.
I heard the dialogue system was something slick you specifically developed and an emphasis on advanced digital actors?
We wanted to make the story experience more interactive than in our previous games, so that character interactions would be as fun to play as they are to watch. We designed a new interface to support this idea, giving Mass Effect's character interactions a very natural conversational feel.
It's an action RPG. Tell us about the combat system and weapons.
Combat in Mass Effect uses a 3rd person shooter style interface - you aim and shoot where you want in real-time. You have a squad of 3 characters (you and two others), and you can give simple orders to your squad with a single button-press on the D-pad, such as sending them ahead to a position of cover or picking a target for them to focus on. Combat also makes heavy use of cover - you just push yourself against a surface and Shepard will take cover against it, leaning to fire around corners or standing up to fire over low objects when crouched.
To ensure that players can make full use of the tactical capabilities of the squad, hitting the right shoulder button will bring up a radial interface where you can order your squadmembers to fire specific attacks at specific enemies. This pauses the game so that you can line up a specific combination attack, and when you release the button your squad executes your orders in real-time.
You switch weapons in a similar interface off of the left shoulder button, setting weapons for all three squadmembers on a single radial interface. Conventional weapons include a pistol, shotgun, rifle, and sniper rifle, plus self-powered grenades that can fly in straight lines to a target.
Players of some specializations will also have access to deadly tech-based attacks as well as biotic (dark energy) attacks that use a gravity-like field to cause destruction and chaos on the battlefield.
There was talk it will be a trilogy for the 360. Will this first one have a conclusion or will we be left hanging?
We are planning a trilogy of Mass Effect titles, but we definitely intend to end this first one with a satisfying conclusion. So while we have plans behind the scenes for how certain story arcs thread through the trilogy in interesting ways, players can expect to feel a strong sense of completion when they get to the end of the first game.
You've already had huge success with games like Jade Empire and Kotor. What's the secret to a satisfying RPG for gamers?
As a player looking back on my favorite games, I think it comes down to something fairly difficult to define - which is that regardless of individual features and poly counts etc, what makes a game really special is that you fall in love with it. It provides a continuously rewarding experience that makes you care about it, then gently tugs at your emotions to remind you that you're becoming attached to it, and ultimatey provides memorable moments that you think about months or years later. So as a game developer it's not a clear blueprint for replicating good games, but it does tell us that to make something special, we need to put a lot of care and attention into how the game as a whole will be a memorable and rewarding experience.
Graphics are becoming so realistic - how far will you be taking it?
We're starting to see many games adopt various forms of "stylized" visuals, and I think that's an indicator that we're reaching a point where realism is no longer the main focus for graphics. For Mass Effect, we wanted to see how close we could get to creating an experience about realistic human emotions in an epic sci-fi setting. So for us, it was useful to explore highly realistic characters with pores, wrinkles, etc. I think that Mass Effect will continue to push the boundaries of realism because it feels right for this kind of game.
As your team has worked with the story over the past couple of years, is there beginning to be a feeling that humans living in space may indeed be a realistic expectation in our lifetime?
Interesting... Having spent this much time thinking about humans living in space it does seem more plausible to me, but for the most unlikely reasons. We're approaching 40 years since the first moon landing, and there's really not a lot of progress on getting humans established in space. Instead, the most exciting new possibilities for space travel seem to have come from things that have really developed over the 3-4 years that we've been working on the project.
First, there have been some really exciting developments in the non-government space industry, as a result of things like the X Prize. I wouldn't be surprised if the next huge push in manned space exploration came from enterprising civilian companies instead of big governments. I wouldn't be surprised if the next huge push in manned space exploration came from enterprising civilian companies instead of big governments.
Second, although extra-solar planets were considered rare only a few years ago, they're now being discovered at an incredible rate - meaning that there is much greater likelihood that there are planets that we could inhabit, and would be worthy destinations if we had a way to get there.
And finally, we've based much of Mass Effect's technology on what was a fairly obscure concept 4 years ago: dark energy. But recent articles on dark energy research read like science fiction stories, implying amazing things about how it affects the universe and what it could mean for science. Maybe the idea of spaceships traveling to the stars using dark energy isn't so crazy after all...
Is the release date on schedule? Thanks again for your time and we're looking forward to that day!
Definitely - we're done, and the discs are being printed as we speak!
Could this be the upcoming game of the year?

Copyright ©2016, NZME. Publishing Limited