NZ squid gel discovery not to be sniffed at
5:00 AM Saturday Nov 17, 2007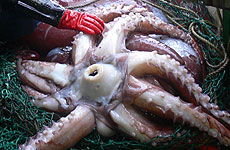 Scientists are using a polymer derived from squid on wounds.
A squid-derived wound-healing gel invented by Otago University scientists is attracting attention from international medical companies.
The Chitodex medical gel, which uses a polymer derived from squid, has been patented by researchers at the university's chemistry department.
Australian medical trials had shown the gel possessed both anti-bleeding and anti-scarring properties, said research team leader Brian Robinson.
"This is a very exciting discovery for us. This combination makes it the 'holy grail' of medical gels.
"It could potentially help a lot of people around the world by reducing complications in sinus surgery and other surgical procedures," Professor Robinson said.
Half a million endoscopic sinus operations to relieve sinusitis are performed every year in the United States alone. In New Zealand, the figure is several thousand.
In around a third of these surgeries, scarring occurs which can block sinus passages and require corrective surgery.
The Otago scientists started work on the gel after Professor Robinson's son, Wellington ear, nose and throat surgeon Simon Robinson, asked his father to come up with something to help solve the problem.
The team's collaborators at Adelaide University Medical School are undertaking patient trials, following the gel's impressive performance in preventing adhesions when tested in sheep, he said.
"Sheep were used because they have a very similar sinus set-up to humans."
Polymer expert Stephen Moratti said the team was "surprised and delighted" to discover that the gel also had an innate anti-bleeding action - a bonus for surgeons.
Like the commercial glue Araldite, the non-toxic hydrogel is prepared by mixing two tubes of ingredients together immediately before it is sprayed up the patient's nose.
Within a minute, it forms into a thick and sticky layer, which slowly leaves the nose over a couple of days, Dr Moratti said.
The gel's active ingredient is a chemically modified form of chitosan, derived from the bony part (the pen) of squid and crabs.
In New Zealand, these pens are usually thrown away during seafood processing, Professor Robinson said.
International medical companies have expressed interest in developing the gel further, and New Zealand Pharmaceuticals is investigating the feasibility of large-scale production of the modified chitosan.
- NZPA
Copyright ©2015, NZME. Publishing Limited