Netball: England book semifinal spot
4:52 PM Thursday Nov 15, 2007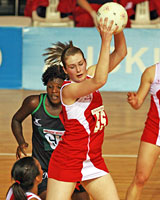 England's Louisa Brownfield secures possession during the game against Malawi. Photo / Getty Images
England are the first team to book a major semifinal berth at the Netball World Championships in Auckland after overpowering Malawi 81-37 today.
The African Queens struggled with their own ball against a tall English defence. By half time England had pulled away to a 32-goal lead but the Queens still managed to string some passes together to put on an - at times - royal performance.
There was a sparkle of magic from Malawi when goal attack Mary Waya passed the ball blind behind her back and the Queens scored against the run of play.
A massive cheer went up from the crowd but the game was soundly won by the English who were clinical in their execution.
England coach Margaret Caldow said after the game that it was good to get through but the team was a bit "lacklustre".
"It's sometimes hard when you have that big a lead to keep yourself motivated and keep churning it out," Caldow said.
Malawi goal attack Mary Waya said the team came to New Zealand to win.
"It was a matter of coming here to show we can do it," Waya said."Most of the defenders were physical. It's the technique for every team, to put the shooters off."
She said the team were aiming for the number five world ranking.
Waya said it was her last performance after playing netball for nearly 25 years. She will be working for a charity for children back home.
England will play the winner of the Australia-Cook Islands quarterfinal tomorrow and Caldow is not expecting an upset from the Pacific Islanders.
"They're (Australia) one of the two top teams and we're one of those pushing hard with all of them and we're up for it," Caldow said.
She said the players are on form and were tested against South Africa but are ready.
"There's no excuses," Caldow said.
Copyright ©2016, NZME. Publishing Limited