Opposition leader's appeal to Army
5:00 AM Saturday Nov 10, 2007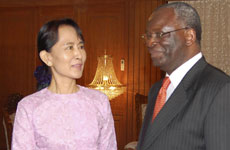 Ibrahim Gambari meets Aung San Suu Kyi. Photo / Reuters
Detained Myanmar opposition leader Aung San Suu Kyi said yesterday she was ready to work with the military junta in proposed talks after a bloody crackdown on pro-democracy protests.
The statement by Suu Kyi, issued on her behalf by United Nations special envoy Ibrahim Gambari, followed the ruling generals' crushing in September of protests led by Buddhist monks in which at least 10 people - and probably many more - were killed.
"In the interest of the nation, I stand ready to co-operate with the Government in order to make this process of dialogue a success," said Suu Kyi, who has been under house arrest for 12 of the past 18 years.
Gambari read the statement in Singapore after ending a six-day trip to Myanmar, where he was refused a meeting with junta supremo Than Shwe.
He said earlier that he had managed to establish a path to "substantive dialogue" between the generals and Suu Kyi, whose party won a 1990 election landslide only to be denied power.
Gambari was heading to New York, where he will brief UN Security Council members next week on his second visit to the isolated Southeast Asian state since the crackdown - the worst since a previous one in 1988 when around 3000 people were killed.
The United States called on Myanmar's generals to respond to Suu Kyi's statement and said it was "sorely disappointed" that Than Shwe failed to meet Gambari.
US State Department spokesman Sean McCormack said: "What needs to happen in Burma is that there needs to be a serious, sustained, peaceful democratic dialogue. That is not something that we have seen."
Suu Kyi said her first meeting on October 25 with General Aung Kyi, appointed as the junta's go-between, had been constructive and that she looked forward to more regular talks.
"I expect that this phase of preliminary consultation will conclude soon, so that a meaningful and time-bound dialogue with the SPDC [State Peace and Development Council] leadership can start as early as possible," Suu Kyi said.
Gambari gave no clues on whether he had made any progress in persuading the junta to do a deal with Suu Kyi.
State television announced that General Aung Kyi would meet Suu Kyi on Friday for a second time.
It said she would also be allowed to meet leaders of her National League for Democracy the same day, for the first time since she was last detained more than four years ago.
The Government would also "make efforts steadfastly for national reconciliation with the correct co-operation of the UN Secretary General", it said.
After Gambari's trip, during which Myanmar authorities fiercely attacked the UN and rejected UN-mediated dialogue, there was scepticism among many experts about whether the junta would at last yield to international pressure.
"There's no doubt in my mind that this regime has no intention of co-operating with Gambari or of starting a process of genuine political dialogue," one Yangon-based diplomat said.
A UN statement said Gambari would return to Myanmar in coming weeks and pursue talks.
The day before Gambari's arrival last week, the junta summoned the UN's top resident diplomat to tell him he was being expelled for a statement linking August's fuel price protests to the dire state of the economy.
A proposal for three-way talks on political reform including Gambari, Suu Kyi and the military was rejected as premature and the junta lambasted the UN, accusing it of being biased, interfering and subservient to US whims.
- Reuters
Copyright ©2015, NZME. Publishing Limited