G-strings out of favour with Kiwi women
5:00 AM Sunday Oct 28, 2007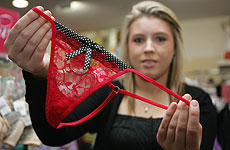 G-strings like the one held by Carly Holland have lost popularity. Photo / Getty Images
Hate to break it to you guys, but the Kiwi gal's obsession with the G-string appears to be well and truly over.
Where five years ago G-strings produced by major brands Jockey Woman, Holeproof, Bonds and Berlei had a 35 per cent share of the lucrative women's underwear market, that figure has now fallen to just 5 per cent.
And, according to at least one underwear firm, it's a downward trend that's set to continue - at least in the short term.
So if G-strings are out, what's the new fad in women's briefs?
According to top New Zealand underwear retailers, sleek and seamless boy-shorts - made of innovative and eco-friendly fabrics - are now replacing the once well-loved "gee".
"The G-string as a shape was one of the earliest forms of clothing known to mankind... it became popular in the 1980s, reached a real peak in the 1990s, but now, with new shapes and fabrications, its popularity has declined somewhat," said Judy Brown of Pacific Brands Clothing NZ.
These days, she said, the dreaded VPL, or "visible panty line" could be avoided easily, without having to resort to the skimpiness that is the "G".
Seamless boy-style pants made of cotton elastane, bamboo cotton, microfibre, or modal - a fabric made from, believe it or not, wood pulp - were fast gaining in popularity.
Proof of this was how quickly Jockey's "Hide and Sleek" range had sold out in some stores this season.
As well as being invisible under tight pants or a sheer evening dress, the new fabrics were also "super-soft" and "breathable", Brown said.
Manager at Bras n Things in Westfield St Lukes, Kerry Miller, also agreed that the G-string may have had its day.
"It's only really the young girls, teenagers and up to the age of about 22, who are buying the G-strings now," she said.
The most popular style of underwear were the "cheekies" a sort of boy-leg/G-string cross, which gave the wearer ions more coverage, while still retaining a little of the risque factor. "It shows the bottom of your butt cheeks.
"Lots of girls prefer boy legs, because they give the illusion you are smaller than you are."
G-strings weren't popular at all with older women as a rule, she said, though they went down well as part of "special occasion" wear. "If they are buying the hanky-panky stuff, then I often recommend one for under a sexy chemise."
A spokesman for Farmers stores said G-string sales were well down on five years ago.
"We still keep a few options for the diehard customers out there."
Copyright ©2016, NZME. Publishing Limited