Turangi: Lure of luxury
By Kerri Jackson
4:35 PM Monday Sep 24, 2007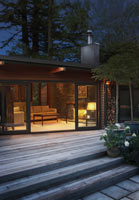 It's cold outside but there's always a warm welcome at River Birches.
I think it was the hot tub that did it. As I eased my creaky, ski-rusty limbs into the steaming water, out in the chilly mountain air, with the faint rushing sounds of the Tongariro River in the background and a glass of bubbles at my fingertips, I realised I must have been switched at birth.
This weekend of pampering and luxury at Turangi's River Birches Lodge was the lifestyle I was meant to lead and going home to the reality of a cold and draughty Auckland bungalow seemed impossible.
River Birches Lodge, perched right on the banks of the Tongariro River, is Turangi's hidden secret - a secluded haven perfect for simply hiding out, or as a base while you embrace the region's world-class skiing, tramping and trout fishing.
The lodge, set back from the road and nestled among the trees that gave it its name, started life in the 1980s as a private home.
Then, a couple of years ago a keen fisherman, American Jason Bleibtreu, bought the property and transformed it into a luxury three-bedroom fishing lodge. The walls are all cedar and schist, the rooms plush and stylish, the gardens extensive and the deck perfect for summer-evening drinks. And in winter guests can't resist the lure of the huge fireplace.
If you're so inclined there's a gym, with the reward of a post-workout soak in the tub.
Bleibtreu visits the lodge several times a year to fish and in his absence the property is managed by hosts Marilyn and Chris Wright.
And in Marilyn's care you want for nothing. As well as preparing delicious breakfasts and an incredible three-course dinner, she will also help you plan and book as many - or as few - activities as you fancy.
The options are plentiful. But as it was mid-winter and we were in the shadow of Mt Ruapehu, there was really only one choice - skiing.
With an eye on the suspect weather, we headed for Whakapapa under the guidance of Paul Ratlidge of Adventure Headquarters. Ratlidge has turned a lifetime spent in and around Tongariro National Park - including a few years as a ski patroller then a few more as head guide at Whakapapa _ into a successful business. As well as providing ski gear hire, Adventure Headquarters offers guided mountain trips for skiers eager to get away from the crowds and off the beaten track.
Ratlidge also guides hikers up to Ruapehu's crater lake or across the famous Tongariro Crossing.
For me, the day was all about staying upright on Whakapapa's intermediate slopes - fairly unsuccessfully, it has to be said.
Off the mountain, now freezing cold and soaking wet thanks to many tumbles, my thoughts drifted to that hot tub at River Birches. It would have to wait - but just until the masseuse Marilyn Wright had booked could work her magic.
A convenient touch of "skier's knee" was enough to convince me not to venture too far from the hot water the next day.
Then again, it's almost a crime to be staying this close to some of the best trout in the world without trying to catch some.
If you don't know your way to the best places, the River Birches team can book you a fishing guide to lead the way and get you to some of the secret spots away from the crowds.
Guide Andrew Blake provides all the gear you may need and ensures the trip suits your level of fitness. Because he's out on the rivers almost every day, he knows just where to go and when.
And he'll offer as much or as little advice as you want on improving technique.
Once you return there's only one place to sit and reflect on those battles out on the river - the hot tub at River Birches.
It's the perfect reason to delay that trip back to reality as long as possible.
- Detours, HoS
By Kerri Jackson
Copyright ©2016, NZME. Publishing Limited