Sideswipe: Saturday
5:00 AM Saturday Sep 22, 2007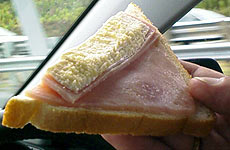 What looked like a full tasty sandwich with lashings of ham and cheese on the shelf at a bakery in the Albany Megacentre turned out to be anything but, reports a reader. "The offending sandwich looked to be three layers of ham and one layer of cheese as the front of the sandwich was displayed for all hungry patrons to see. It wasn't until the 'sarnie' was opened that one discovered its true worth (or lack of) with three of the four layers of ham and cheese not even making it halfway through the sandwich! Is it just me or is this very 'unkiwi like' and just adds to the feeling of everyone wanting to take your money, for the sake of a few cents, and at the expense of repeat business?"
***
Bradley Nash wants to warn fans of TV2's newish drama The Nine. "Don't get too involved! If you didn't know already, the series was pulled midseason in the US, and has not been renewed for a second season. So all those hanging plot points won't get resolved. I'm curious why TV2 does this, while shows like Smallville and Veronica Mars (among others) are relegated to late night or weekend slots? Can anyone comment on this?" Well Bradley, Herald staff decided to check this with TV2 and they assure us that they have the whole series lined up so you will get to see it all. Whether all of those hanging plot points are tidied up by the end is another question.
***
A conservative German politician wants to make marriage contracts expire after seven years, with the option to renew for those not feeling the itch. "I propose that marriages lapse after seven years," Gabriele Pauli told reporters. "This would mean that one will only commit for a fixed period and will actively have to renew your vows if you still want to continue." Ms Pauli, 50, has been divorced twice and is preparing to contest the leadership of Bavaria's governing party, the ultra-conservative Christian Social Union (CSU), next week. Previously, Ms Pauli caused a stir by posing for magazine pictures as a dominatrix wearing long latex gloves. (Source: ABC News)
***
A reader writes: "To the driver of the Birkenhead bus, who would not allow my 17-year-old daughter on his bus, simply because he did not have change for a $10 note, and left her standing at the bus stop in Glenfield late yesterday afternoon, I award a huge fat raspberry. I'd be interested to know if he would have left her standing on the side of the road if it had been late at night."
***
Jeanette from Kingsland has an answer for the Te Atatu family who wondered where all their birds had gone: "Three weeks ago was the beginning of spring and all the birds are off nesting - probably the Waitakeres if you live in Te Atatu. My parents who lived in Hillsborough always fed the birds (much to their neighbours horror) and they knew it was spring when the birds left, they returned in a few weeks with their fledglings."
Copyright ©2015, NZME. Publishing Limited