Survey puts deaths at 1m-plus
5:00 AM Monday Sep 17, 2007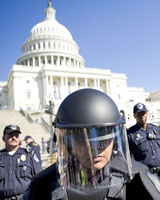 About 4000 anti-war protesters demonstrated in Washington yesterday. Police arrested 197. Photo / Reuters
BAGHDAD - A startling new household survey of Iraqis claims as many as 1.2 million people may have died because of the conflict in Iraq, apparently lending weight to a 2006 survey in the Lancet that reported similarly high levels.
More than one million deaths were already being suggested by anti-war campaigners, but such high counts have consistently been rejected by United States and British officials.
The estimates, extrapolated from a sample of 1461 adults around the country, were collected by a British polling agency, ORB, which asked Iraqis how many people living in their household had died as a result of the violence.
Previous estimates, most prominently one by the Johns Hopkins Bloomberg School of Public Health, suggested 654,965 as a likely figure.
Although the survey was carried out by a polling organisation, rather than by epidemiological researchers operating under the discipline of scientific peer review, it has again raised the spectre that the 2003 invasion of Iraq has caused a far more substantial death toll than officially acknowledged.
The ORB survey follows an earlier report by the organisation which suggested one in four Iraqi adults had had a family member killed. Their latest survey suggests that in Baghdad that number is as high as one in two.
The poll also questioned the surviving relatives on how their loved ones were killed. It revealed 48 per cent died from a gunshot wound, 20 per cent from the impact of a car bomb, 9 per cent from aerial bombardment, 6 per cent by accident and 6 per cent from another blast or ordnance.
Meanwhile, the political movement loyal to anti-American cleric Moqtada al-Sadr withdrew from Iraq's ruling Shiite Alliance, leaving it in a precarious position.
- Observer, Reuters
Copyright ©2016, NZME. Publishing Limited