Dunne rebrands United Future after Christian faction split
5:00 AM Monday Sep 3, 2007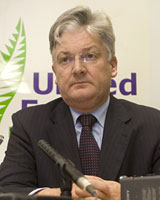 Peter Dunne. Photo / Mark Mitchell
United Future is rebranding itself as a sensible, moderate centre party and leader Peter Dunne says membership is rising after the break with its Christian faction.
"I think it's taken a bit of a monkey off our back, frankly, and made us able to talk about who we really are,"he said. "We're a political party, not a church."
United Future was formed before the 2002 election when the United Party merged with the Christian party Future New Zealand.
It won eight seats in that election, but only three in 2005. In May thisyear its Christian MP, Gordon Copeland, left it to resurrect Future New Zealand.
Mr Copeland forecast a mass defection of party members.
Mr Dunne said during the party's annual conference at the weekend that some had left but they were outweighed three to one by new members.
"There were people on the fringes who were interested in us but never really felt able to join because they saw us as being the self-appointed moral guardians of the nation, and now that's not the case," he said.
"The hard core of the Christian moralist camp have gone but its opened the doors for a whole lot of other people.
"A lot of people we lost over the years have come back."
Mr Dunne admits that when the merger took place he didn't foresee some of the problems that were onthe horizon.
"It became obvious after 2002, and it intensified during the term, that there were some people there with an agenda that was quite different, and it was holding us back," he said.
Mr Copeland cited the anti-smacking bill, which United Future did not oppose as a party, as his reason for quitting but Mr Dunne thinks the break would have come anyway.
- NZPA
Copyright ©2016, NZME. Publishing Limited