Green wine lifts bottom line
By Keith Stewart
9:00 AM Monday Aug 20, 2007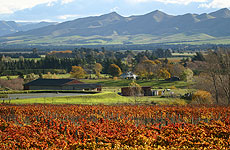 Waipara's Muddy Water Winery is an eager participant in a Lincoln University biodiversity project.
Climate change has focused attention on environmentally sound practices throughout the commercial world, if only because consumers are increasingly averse to buying products with high environmental costs.
This is most obvious for land-based industries, whose farming activities have obvious environmental effects. But even without the impetus of improved marketplace performance, being mindful of how the environment is bearing up can boost the bottom line.
This was one of the drivers behind a Lincoln University biodiversity exercise in the Waipara winegrowing district of North Canterbury. Working with Waipara Valley Winegrowers, Landcare Research and the Foundation for Research, Science and Technology, Lincoln's National Centre for Advanced BioProtection Technologies has developed the Greening Waipara project, which aims to revitalise the natural biodiversity of the district against the trend to monoculture that winegrowing inevitably involves.
Breaking up the monocultural vineyard landscape with areas of native vegetation once common in Waipara has visual benefits as well as nurturing insects that pollinate and others that act as pest predators. These are further encouraged by inter-vine planting of crops such as buckwheat, where leafroller-munching wasps thrive, while botrytis is kept in check with the use of organic mulches that in Waipara eliminate the need for any fungicide in a normal season.
The experiment had its genesis in a project initiated by the Hurunui District Council to put an economic value on the services provided free by nature to agricultural, pastoral and horticultural commerce. This research project set out to establish such grass-roots values as the worth of a worm in maintaining soil fertility, and the economic contribution of bees in fertilising crops, from grass to grapevines. While this research is continuing, and for many is simply a quantification of a value that is already acknowledged by farmers, it quickly became apparent that there was considerable immediate economic benefit to be had in promoting biodiversity throughout the winegrowing region.
Not that the profit inherent in organic farming should be a surprise to anyone in the wine industry, as organic winegrowing has been practised by Gisborne's James Millton with considerable success for 25 years, and the numbers are clear for those who ask.
"I spend virtually nothing on fungicide apart from a little sulphur," says Millton. "Nothing at all on herbicide or fertiliser."
Compared to a New Zealand winegrower's average spending on these chemicals, this is a saving of slightly more than $1100 per hectare per year, without counting the value of bees saved or earthworms nurtured. Against this is a 30 per cent increase in labour costs because of the extra work required in managing the vineyards, or $800 per hectare. All told, that's a reduction in costs of $300 per hectare in what Greening Waipara project leader Professor Steve Wratten calls "short-term costs".
"Profit in the short term is enhanced by savings in variable costs within each season; sprays and fertiliser," says Wratten.
"But there is also a considerable medium-term cost benefit in maintaining or increasing market share under pressure, with very little extra cost," he adds, noting that the added value New Zealand wines need to be profitable on international markets is now more than ever dependent on a responsible green image.
"I don't see biodiversity as an optional extra for farmers with a green conscience any longer. It is a commercial imperative."
Muddy Water Wines' Jane East agrees. "From a commercial point of view it is more than just the cost savings biodiversity offers in the vineyard. It is now essential to our marketing that we are seen to be environmentally sound."
A key part of the Greening Waipara project is the development of biodiversity trails at wineries, where visitors can be exposed to each brand's green image.
The trails take visitors through the native plantings that are home to local insects, reptiles and birds. Ultimately the trails are a shop window for the project, showing how human systems can be more natural and in tune with their environmental context.
That's beneficial for wine tourism, which for Waipara, located on State Highway 1 an hour's drive north of Christchurch, is an important factor in both brand building and cashflow, as well as being a tool for international market development.
The importance of this factor was made clear to Wratten on a recent Australian roadshow, during which the Greening Waipara project was explained to winegrowers, an initiative of an Australian wine industry well aware of the greening of its international consumers.
In the United States, being seen to be green is also considered important enough for the US Government to make US$38 million ($52.4 million) available to winegrowers who want to convert to organics.
"Greening Waipara makes such perfect sense we didn't have to think too long and hard about it before getting involved," says East.
"The cost savings were attractive and the marketing advantages are obvious, but it is much more than that. We believe it will make for better wine in the longer term, not just by producing healthier grapes, but because it engages our staff in the best possible way.
"First, it makes the job more pleasant because people are not dealing with sprays and dangerous chemicals. But there is also that positive mind-set that comes from nurturing the land. Vineyard people are naturally inclined to being sensitive to the land and, when they know they are doing the soil good, they not only get greater satisfaction from the work, they put more of themselves into the job."
Millton agrees. "Enthusiasm among the team is the best contributor to profit in the vineyard. When instead of people operating under the management of individuals they are guided by the philosophy of a healthy environment, they are motivated to care - not just about the land, but about the business as well.
"We find people who are enthusiastic invariably do the best job they can, and that is not something every business can say," Millton says.
* Keith Stewart is a freelance writer with 38 years experience of the New Zealand wine industry.
By Keith Stewart
Copyright ©2016, NZME. Publishing Limited