Loop unbundle begins - but lightning broadband not here yet
2:42 PM Thursday Aug 9, 2007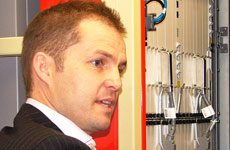 Mark Rushworth, ihug CEO with his 'shiny red DSLAM' at Ponsonby exchange today.
Local loop unbundling took a huge step today as ihug CEO Mark Rushworth took his "shiny red DSLAM" box into a Telecom exchange.
"It was big," he said, "as big as when I was 16 and my dad gave me the keys to the Cortina for the first time."
A trial started today in the Ponsonby and Glenfield Telecom exchanges in Auckland as part of the long-awaited unbundling of the local loop, which allows ISPs to pay a per-customer fee to access Telecom's copper wire network.
This means a more competitive broadband and telephone market and better service for customers.
However, it won't be until early next year when customers will finally be able to take advantage of better prices, faster connections and stiffer competition amongst ISPs.
Rushworth says that Vodafone-owned ihug's trial is currently only for staff of the ISP.
"We've been conducting lab trials since last year, but as we're one of the last OECD countries to unbundle the local loop, our vendors have definitely done it all before."
The company is putting two systems in place - ADSL 2, (Asymmetric Digital Subscriber Line) which Rushworth says will be about three times current line speed, and BDSL (Broadband Digital Subscriber Line) which will be roughly seven times faster.
"And it will allow us to do things like dimension our own backhaul, so in peak times we can dial in exactly the sort of performance we want for our customers."
But line speed is not the only thing that the New Zealand broadband market needs, he says.
"There's a lot that the whole industry can do to improve industry can do to improve the customer experience for broadband and for home phones - so customers are getting better connection speed, greater reliability and are having the phone answered when they ring for support."
Telecommunications in New Zealand is in for a big shake-up, and Rushworth admits that the backing of Vodafone puts it in an excellent position compared to smaller ISPs.
"For local loop unbundling (LLU) to work, it needs to be done in a big way," he said, "and that's what ihug, with its own expertise and the financial backing of Vodafone, will be doing.
"Kiwis will be able to reap the benefits of true competition for the first time between New Zealand's two top telco providers."
CallPlus is itching to get the keys to the Telecom exchanges, according to a statement released by its CEO Martin Wylie today.
"At this stage we anticipate trialling our equipment in at least two of the five exchanges that will become available before Christmas.
"The real celebration will come when our first Slingshot customer signs up for a true broadband service. It's a positive step by Telecom and we hope that we can see a commercial service available by the end of the year" he said.
Copyright ©2015, NZME. Publishing Limited