Over 900 NZ mothers join breastfeeding record bid
5:15 PM Wednesday Aug 8, 2007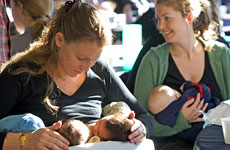 Elaine Finefeuiaki feeds her twin 2-month-old boys at the "Big Latch On" in Botany Downs. Photo / Paul Estcourt
More than 900 mothers around New Zealand participated in today's "Big Latch On" international breastfeeding record bid.
The New Zealanders were among the first to take part in the World Breastfeeding Week promotional event, which takes place at hundreds of sites around the world at 10am local time.
Mothers in the Philippines set records last year when they mobilised 16,000 mothers in more than 400 sites in that country and also set a new Guinness World Record on simultaneous breastfeeding in a single site with 3541 mothers.
A district health boards spokeswoman said today at least 900 people had taken part in the event in New Zealand, which was well up on last year's 714.
With the event taking place across the world in different time zones it was expected to take a couple of days to collate figures and establish whether any records had been broken.
- NZPA
Copyright ©2015, NZME. Publishing Limited